You are here
Back to top
Japanese Hiragana and Katakana Language Workbook: A Complete Introduction to the 92 Characters with 108 Gridded Pages for Handwriting Practice (Free O (Paperback)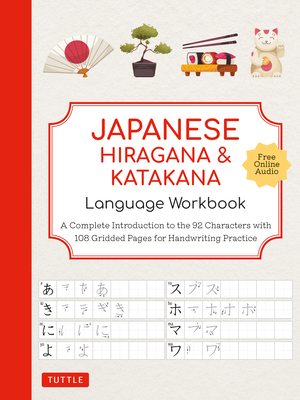 $9.99

Usually Ships in 1-5 Days
Description
---
The easy way to learn the Japanese HIRAGANA and KATAKANA alphabets This is the perfect workbook to use when learning to write Japanese Hiragana and Katakana, the two phonetic alphabets that all learners of Japanese need to know. It features a complete introduction to all 92 Hiragana and Katakana letters with reference charts and guided writing exercises that will teach you how to write each character the correct way. The workbook includes over 100 pages of blank grids for handwriting practice, as well as a few pages of useful writing practice exercises showing examples of each Hiragana and Katakana character in everyday words. Free online audio recordings by native Japanese speakers teach you the correct sounds and pronunciations of all the letters and words in the book.
About the Author
---
Tuttle Studio draws inspiration from the modern and traditional cultures of Asia to create its language workbooks and resources, journals, stationery, gift wrapping products and origami paper. It is a division of Tuttle Publishing, a leading publisher of books on the languages, history, art and cultures of Asia. The company was founded in 1832 in Rutland, Vermont (USA) and opened a branch in Tokyo, Japan in 1948.
Welcome!
The Narrow Gauge Book Cooperative is a community-owned, independent bookstore located in Alamosa, Colorado, in the heart of the San Luis Valley. We sell new and used books and a small assortment of local foods and goods.
To learn more about who we are, read our story about how a community came together to save their beloved, historic bookstore.
If you've come to browse our inventory and shop online, you're at the right place!