You are here
Back to top
Leave Only Footprints: My Acadia-to-Zion Journey Through Every National Park (Hardcover)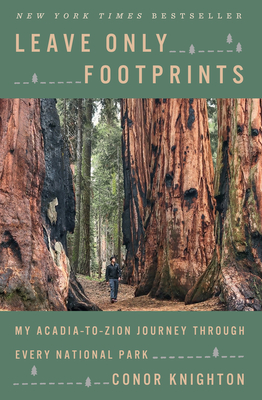 $28.00
Usually Ships in 1-5 Days
Description
---
NEW YORK TIMES BESTSELLER • "A delightful sampler plate of our national parks, written with charisma and erudition."—Nick Offerman, author of Paddle Your Own Canoe

From CBS Sunday Morning correspondent Conor Knighton, a behind-the-scenery look at his year traveling to each of America's National Parks, discovering the most beautiful places and most interesting people our country has to offer

NAMED ONE OF THE BEST BOOKS OF THE YEAR BY OUTSIDE

When Conor Knighton set off to explore America's "best idea," he worried the whole thing could end up being his worst idea. A broken engagement and a broken heart had left him longing for a change of scenery, but the plan he'd cooked up in response had gone a bit overboard in that department: Over the course of a single year, Knighton would visit every national park in the country, from Acadia to Zion.
 
In Leave Only Footprints, Knighton shares informative and entertaining dispatches from what turned out to be the road trip of a lifetime. Whether he's waking up early for a naked scrub in a historic bathhouse in Arkansas or staying up late to stargaze along our loneliest highway in Nevada, Knighton weaves together the type of stories you're not likely to find in any guidebook. Through his unique lens, America the Beautiful becomes America the Captivating, the Hilarious, and the Inspiring. Along the way, he identifies the threads that tie these wildly different places together—and that tie us to nature—and reveals how his trip ended up changing his views on everything from God and love to politics and technology.
 
Filled with fascinating tidbits about our parks' past and reflections on their fragile future, this book is both a celebration of and a passionate case for the natural wonders that all Americans share.
About the Author
---
Conor Knighton is an Emmy-winning correspondent for CBS Sunday Morning, America's #1 Sunday morning news program. Depending on your cable package, you may have also seen him hosting shows on Current TV, AMC, and The Biography Channel or providing commentary for the likes of MTV, E!, and CNN. He has been to all of America's national parks and what feels like 40 percent of its Hampton Inns.
Praise For…
---
"This fascinating memoir documents . . . a must-do travel item shared by many."—USA TODAY
 
"A chronicle of one upbeat, observant man's emotional and physical journey through some of the most beautiful places in one very large country . . . It is Knighton's curation—his ability to draw out unexpected snapshots from places as well known and completely formed in our national imagination as Yosemite and Yellowstone—that makes his journey so engaging."—The New York Times Book Review

"Conor Knighton is not only blessed with Charles Kuralt's peripatetic curiosity and John Muir's reverence for nature, he shares their all-too-rare gift—his writing makes you want to hit the road and see for yourself what truly makes America great."—Mark Adams, New York Times bestselling author of Turn Right at Machu Picchu

"A touching, funny tour of the weird and wonderful in the American wild. If you love our national parks, you'll love visiting them all with the thoughtful, always entertaining Conor Knighton as your witty, energetic guide. His enthusiasm is contagious and shines on every page."—Steve Hely, author of The Wonder Trail
 
"You don't have to be a national parks geek like me to love this book. However, in Conor Knighton's capable hands, you will be a national parks geek as soon as you dip into this great narrative."—Rinker Buck, author of The Oregon Trail: A New American Journey
 
"In Leave Only Footprints, Conor Knighton does what would require a lifetime for the rest of us. Over the course of a year, he goes on a mission of discovery, sharing something new and fresh about each of our national parks and encouraging us to also visit—and preserve—the places that reflect Americans at our best."—Jonathan Jarvis, eighteenth director of the National Park Service
 
"I am crazy about this book. It's a delightful sampler plate of our national parks, written with charisma and erudition and leavened by a healthy dollop of humor. When Conor Knighton tells you to take a hike, you'd do well to pay attention."—Nick Offerman, author of Paddle Your Own Canoe
 
"Knighton is a companionable guide, light on his feet, with a steady store of . . . excellent descriptive passages, good background material, and a few sweeping insights into why national parks are so essential. . . . A fine tour d'horizon of our national grandeur."—Kirkus Reviews

"Entertaining, informative and inspirational, Leave Only Footprints will appeal to anyone who wants to learn more about America's 'best idea' and how challenging yourself can help with spiritual, emotional and personal growth."—BookPage
Welcome!
The Narrow Gauge Book Cooperative is a community-owned, independent bookstore located in Alamosa, Colorado, in the heart of the San Luis Valley. We sell new and used books and a small assortment of local foods and goods.
To learn more about who we are, read our story about how a community came together to save their beloved, historic bookstore.
If you've come to browse our inventory and shop online, you're at the right place!