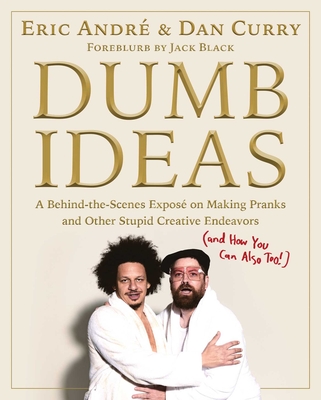 Dumb Ideas: A Behind-the-Scenes Exposé on Making Pranks and Other Stupid Creative Endeavors (and How You Can Also Too!)
Publication Date:
November 14th, 2023
Publisher:
Simon & Schuster
Usually Ships in 1 to 5 Days
Description
From the brilliantly demented minds behind The Eric Andre Show and Bad Trip, an insane illustrated compendium about the art of pranking.
Eric André is a master of the art of pranking—"an Andy Kaufman for the Four Loko generation," as Spin magazine once hailed him. For over a decade, he and longtime collaborator Dan Curry have dreamed up and performed a cornucopia of outrageous, often illegal, and always death-defying hijinks for the Adult Swim series The Eric Andre Show, as well as in the hit movie Bad Trip. Now, in their very first book, Eric and Dan reveal the secret fuel behind their surrealistic prank machine. Get ready to gorge your thirsty peepers on epic stories of shame, redemption, and glory behind pranks so dumb they're brilliant…and beyond the realm of criticism.
But wait, there's more! This pranktastic potpourri includes:
-Tips for prankers of any skill level, from the importance of a "safe word" to why you should always keep the camera rolling, even after the prank is over.
-All new pranks to try at home such as "Jell-O Surprise," "Benadryl Steaks," "Amateur Graverobber" and "The Jim Morrison."
-Wild behind-the-scenes stories about the most classic pranks from The Eric Andre Show and Bad Trip.
-Learn about the dark existential dread behind everyone's favorite mac-and-cheese-spurting DJ, Kraft Punk.
-Discover how Eric avoided getting stabbed when a penis-in-a-finger-trap prank went horribly wrong.
-Exclusive never-before-filmed pranks deemed too hot for TV.
-Inspirational quotes from philosophers so obscure that they might not even exist.
Artfully designed, loaded with funny photos, and a gracious foreblurb by Jack Black, Dumb Ideas is an essential manual for getting a laugh out of friends, family, and complete strangers—and staying out of jail while doing it.