You are here
Back to top
Tasting History: Explore the Past through 4,000 Years of Recipes (A Cookbook) (Hardcover)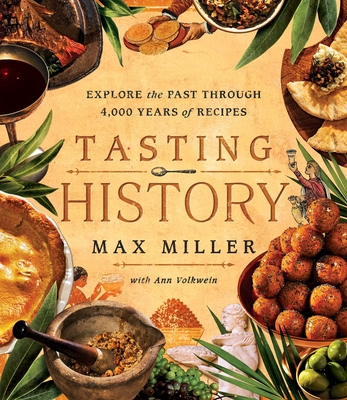 $30.00

Coming Soon - Available for Pre-Order Now
Description
---
Begin your very own food journey through the centuries and around the world with the first cookbook from the beloved YouTube channel Tasting History with Max Miller

What began as a passion project when Max Miller was furloughed during Covid-19 has become a viral YouTube sensation. The Tasting History with Max Miller channel has thrilled food enthusiasts and history buffs alike as Miller recreates a dish from the past, often using historical recipes from vintage texts, but updated for modern kitchens as he tells stories behind the cuisine and culture. From ancient Rome to Ming China to medieval Europe and beyond, Miller has collected the best-loved recipes from around the world and has shared them with his fans. Now, with beautiful photographs portraying the dishes and historical artwork throughout, Tasting History compiles over sixty dishes such as:
-Tuh'u: a red beet stew with leeks dating back to 1740 BC
-Globi: deep-fried cheese balls with honey and poppy seeds
-Soul Cakes: yeasted buns with currants from circa 1600
-Pumpkin Tourte: a crustless pumpkin cheesecake with cinnamon and sugar on top from 1570
-And much more.

Including the original recipe and Miller's modern recreation, this cookbook is a must-have for any avid cook or history fan looking to experience delicious recipes from the past.
About the Author
---
Max Miller is the creator and host of the viral digital series Tasting History with Max Miller on YouTube. Prior to his YouTube stardom, Max was an employee of Walt Disney Studios in the marketing and film distribution departments. When the COVID-19 stay-at-home order went into effect in Los Angeles, Max was furloughed and began turning his passion for historic dishes into a self-taped video series. Within weeks of his first video on YouTube, Max's channel and videos reached hundreds of thousands of viewers who wanted to learn more about historic dishes. Max's channel has been covered in outlets like America's Test Kitchen, ABC's Localish, Chowhound, Foodsided, GLAAD, KTLA Morning News, A Hot Dog Is a Sandwich podcast, PopCulture, Rachael Ray, Today, UPROXX, and Yahoo!. Max currently resides in Los Angeles, California, with his husband, José, and their two cats.
Praise For…
---
"Even if we never make these dishes of ancient times, Miller's book is a fascinating read." —New York Journal of Books

"A great sense of humor tempers Miller's erudition and encourages curious cooks to serve up some of these historical foods to entertain families and guests and provoke dinner table conversation." —Booklist, Starred Review

"Throughout, Miller skillfully balances history with tantalizing recipes, and manages to make even ancient fare accessible with suggested ingredient substitutions and an inviting tone. The result is a fascinating outing that will entice history buffs and home cooks alike." —Publishers Weekly

"I love Tasting History and everything about this terrific cookbook. This is true time travel." —Phil Rosenthal, host of Somebody Feed Phil

"This fascinating book is a must-have for both history lovers and cooks alike. It leaves you feeling enlightened and inspired." —John Kanell, author of Preppy Kitchen

"This is the perfect book for any food history fanatic (guilty as charged), or, in truth, any food fanatic. To create a series of beautifully realized and photographed recipes that take you on a path from the earliest written clay tablets of Babylon, all the way through history to the dishes that built the Americas, is a huge undertaking. However, it is one that Max Miller achieves with all the wit, enthusiasm, accessibility, and accuracy that have made his YouTube channel such a deserved internet sensation." —Simon Majumdar, author, television personality, and creator of the food history podcast Eat My Globe

"Max Miller is not only a prodigy, utterly charming, and witty, but a first-rate historian. He brings the culinary past to life, setting old recipes in context brilliantly and making them thoroughly accessible to the intrepid modern diner." —Ken Albala, professor of history, University of the Pacific
Welcome!
The Narrow Gauge Book Cooperative is a community-owned, independent bookstore located in Alamosa, Colorado, in the heart of the San Luis Valley. We sell new and used books and a small assortment of local foods and goods.
To learn more about who we are, read our story about how a community came together to save their beloved, historic bookstore.
If you've come to browse our inventory and shop online, you're at the right place!