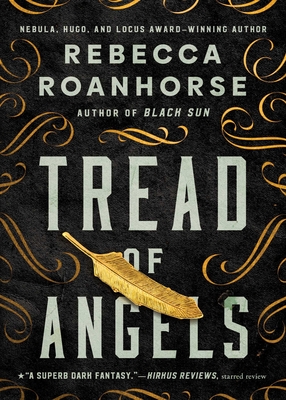 Tread of Angels
Publication Date:
May 2nd, 2023
Publisher:
Gallery / Saga Press
Usually Ships in 1 to 5 Days
At this point, I'll read anything Rebecca Roanhorse writes. This little book packs a powerhouse of a story! It's 1920s noir with demons and angels, but with Rebecca's personal twist. I loved it and I can't wait to give it to everyone I know!
December 2022 Indie Next List
Description
Celeste, a card sharp with a need for justice, takes on the role of advocatus diaboli, to defend her sister Mariel, accused of murdering a Virtue, a member of the ruling class of this mining town, in an "intricate…engrossing" (The Washington Post) new world of dark fantasy from the New York Times bestselling author of Black Sun, Rebecca Roanhorse.
The year is 1883 and the mining town of Goetia is booming as prospectors from near and far come to mine the powerful new element Divinity from the high mountains of Colorado with the help of the pariahs of society known as the Fallen. The Fallen are the descendants of demonkind living amongst the Virtues, the winners in an ancient war, with the descendants of both sides choosing to live alongside Abaddon's mountain in this tale of the mythological West from the bestselling mastermind Rebecca Roanhorse.