You are here
Back to top
Insomniacs After School, Vol. 1 (Paperback)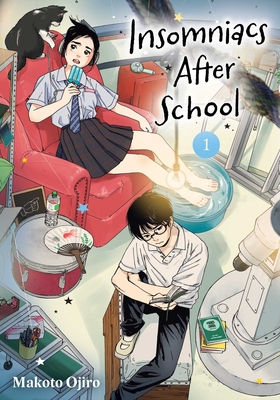 $12.99

Usually Ships in 1-5 Days
Description
---
Two sleepless teenagers find kinship as they escape to their school's astronomy observatory.

Unable to sleep at night, Ganta Nakami is cranky in class and unpopular with his classmates. He discovers that the school observatory, once used by the now-defunct astronomy club, may be the perfect place for a nap—but he's not alone. Fellow insomniac Isaki Magari is willing to share the observatory with Nakami, and a friendship between the two begins as they bond over the most unlikely of things.

Dark rumors about what befell the members of the astronomy club keep people away from the school observatory, and that's what makes it the perfect sanctuary for Nakami and Magari to get some much-needed rest. Unfortunately, the school faculty can't allow its unsanctioned use. But if there were a new astronomy club, maybe these two insomniacs could have a place to call home!
About the Author
---
Makoto Ojiro began her career in manga as an assistant at the age of 19. Her Neko no Otera no Chion-san (Cat Temple's Miss Chion) won the Bros. Comic Award in 2016. Insomniacs After School began serialization in 2019 and has been adapted into an anime and a live-action film.
Welcome!
The Narrow Gauge Book Cooperative is a community-owned, independent bookstore located in Alamosa, Colorado, in the heart of the San Luis Valley. We sell new and used books and a small assortment of local foods and goods.
To learn more about who we are, read our story about how a community came together to save their beloved, historic bookstore.
If you've come to browse our inventory and shop online, you're at the right place!