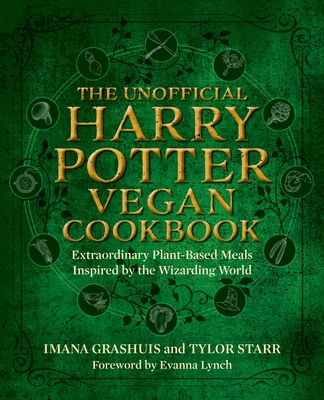 The Unofficial Harry Potter Vegan Cookbook: Extraordinary plant-based meals inspired by the Realm of Wizards and Witches
Publication Date:
November 1st, 2022
Publisher:
Media Lab Books
Usually Ships in 1 to 5 Days
Description
"This magical book offers a selection of recipes for delectable dishes from the wizarding world without any animal-derived ingredients."
--Ingrid Newkirk, President of PETA
The Unofficial Harry Potter Vegan Cookbook is a stunning, visual delight that features more than 75 mouth-watering recipes certain to be enjoyed by vegans and non-vegans alike.
Created by Imana Grashuis, kitchen witch, recipe developer and photographer and Tylor Starr, founder of The Protego Foundation and the Chickpeeps podcast, the book is both an amazing recipe collection as well as an encouraging, uplifting invitation to the vegan lifestyle.
From Molly Weasley's Breakfast Spread to Giant Pumpkin Patch Brownies, the authors imbue every recipe with text and imagery that capture the feel of the Wizarding World, with a bit of storytelling thrown in for good measure.
The book's foreword is written by Harry Potter actor/icon Evanna Lynch, best-known for her role as Luna Lovegood.
Praise for The Unofficial Harry Potter Vegan Cookbook: Extraordinary plant-based meals inspired by the Realm of Wizards and Witches
"Best Vegan Cookbook" Nominee
--VegNews's 2023 Veggie Awards

"The Unofficial Harry Potter Vegan Cookbook is a stunning treat that any Harry Potter fan, vegan or not, will find magical and enchanting. This terrific tome merits shelf space and a place in the heart and home of all Potterheads."
--MuggleNet
"This magical book offers a selection of recipes for delectable dishes from the wizarding world without any animal-derived ingredients."
--Ingrid Newkirk, President of PETA
"If you are a fan of Harry Potter Don't miss this cookbook with 75 delicious vegan recipes perfect for a magical world."
-- DeliciousFood.com
"You can now cook your own vegan Harry Potter dishes with the help of this exquisite cookbook!"
-- Girl Gamer Galaxy
"Enjoy your own self-guided Potions course by mixing up a cauldron of pumpkin juice or try your hand at Dark Arts Fudge. Some recipes do take time, but the instructions are simple enough that even Crab or Goyle could perfect them."
-- VegNews
"If you're a fan of the Harry Potter franchise, you won't want to miss out on this cookbook."
-- PETA
"The book is both an amazing recipe collection as well as an encouraging, uplifting invitation to the vegan lifestyle."
-- Wild Hearted