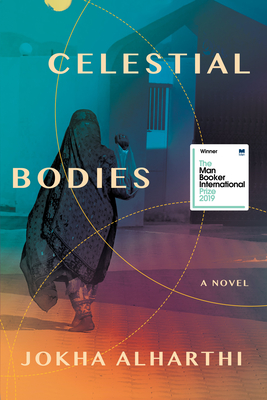 Celestial Bodies
Publication Date:
October 8th, 2019
Usually Ships in 1 to 5 Days
In this gripping family saga, author Jokha Alharthi—the first female Omani writer to be translated into English—involves you deeply in the personal drama of her characters and in the extended family system, which includes former servants and masters, while also somehow telling the modern history of the country of Oman. I was immediately enthralled by the power and clarity of Alharthi's book, which won the 2019 Man Booker International Prize and is the first book written in Arabic to win it. Don't miss the opportunity to let this important new book sweep you away!
October 2019 Indie Next List
Description
This winner of the 2019 Man Booker International Prize and national bestseller is "an innovative reimagining of the family saga . . . Celestial Bodies is itself a treasure house: an intricately calibrated chaos of familial orbits and conjunctions, of the gravitational pull of secrets" (The New York Times Book Review).

In the village of al-Awafi in Oman, we encounter three sisters: Mayya, who marries after a heartbreak; Asma, who marries from a sense of duty; and Khawla, who chooses to refuse all offers and await a reunion with the man she loves, who has emigrated to Canada.
These three women and their families, their losses and loves, unspool beautifully against a backdrop of a rapidly changing Oman, a country evolving from a traditional, slave-owning society into its complex present. Through the sisters, we glimpse a society in all its degrees, from the very poorest of the local slave families to those making money through the advent of new wealth.
The first novel originally written in Arabic to ever win the Man Booker International Prize, and the first book by a female Omani author to be translated into English, Celestial Bodies marks the arrival in the United States of a major international writer.
Praise for Celestial Bodies
Winner of the 2019 Man Booker International Prize
A New York Times Book Review Editor's Choice
A Kirkus Reviews Best Book of the Year in Fiction
"In her novel Celestial Bodies, the Omani author Jokha Alharthi inhabits this liminal space between memory and forgetting: the dark tension between the stories we tell and the stories we know . . . Booth's translation honors the elliptical rhythms of Arabic and the language's rich literary heritage. She imbues the book's numerous poetic extracts with lyricism and devotedly preserves the rhymes and cadences of its proverbs. ('The feet walk fast for the loving heart's sake, but when you feel no longing, your feet drag and ache.') Yet there is no doubt that this is a contemporary novel, insistent and alive . . . Celestial Bodies is itself a treasure house: an intricately calibrated chaos of familial orbits and conjunctions, of the gravitational pull of secrets." ―Beejay Silcox, The New York Times Book Review
"Bright and illuminating." ―Sam Sacks, The Wall Street Journal
"The form's remarkable adaptability is on brilliant display in Celestial Bodies (Catapult), a searching work of fiction by Jokha Alharthi, an Omani writer and academic . . . Within all the chapters, the stories float like this, lightly tethered to what the French call récit―the moment in which the story is being told, the narrative present. The result is a beautifully wavering, always mobile set of temporalities, the way starlight seems to flicker when we gaze at distant and nearer celestial bodies . . . Indeed, the great pleasure of reading Celestial Bodies is witnessing a novel argue, through the achieved perfection of its form, for a kind of inquiry that only the novel can really conduct." ―James Wood, The New Yorker
"Arab women, therefore, face twin obstacles: the West's own gender biases, and the reductive narrative of the Arab woman. This is why it was such a victory when the International Booker Prize jury chose an Arab novel―one written by a woman―to receive the award for the first time in the prize's history. The Omani novelist Jokha al-Harthi's breathtaking, layered, multigenerational novel Celestial Bodies, which was beautifully translated into English, follows the lives of three sisters from a small village at a time of rapid social and economic change in Oman. The tale is replete with history, poetry, and philosophy, but also slavery, broken marriages, passion, and not-so-secret lovers." ―Kim Gattas, The Atlantic
"Rich, dense . . . The variety of perspectives is effective in offering a window into a country that few Western readers will know intimately . . . Celestial Bodies is strongest in its exploration of how the changes in Oman affect women: within one generation, they are exposed to ideas from abroad and start moving away from cloistered, rural life. But Alharthi . . . pushes past stereotypical narratives of Muslim women defying patriarchy, instead illustrating the difficulties of balancing tradition and newfound freedoms. It's a tale that perhaps could have been written only in a strange new place itself." ―Naina Bajekal, Time
"A rich, dense web of a novel . . . Alharthi constructs a tapestry of interlocking lives, some seen over the course of decades, others at just a single pungent moment. Rarely have I encountered a work of fiction in which form and idea were so inseparably, and appropriately, fused . . . Marilyn Booth, the translator, has done a wonderful job of conveying a lyricism I can only assume is present in Alharthi's original." —Ruth Franklin, The New York Review of Books