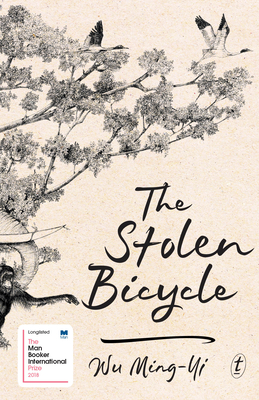 The Stolen Bicycle
Publication Date:
April 14th, 2020
Publisher:
Text Publishing Company
Description
A writer embarks on an epic quest in search of his missing father's stolen bicycle and soon finds himself ensnared in the strangely intertwined stories of Lin Wang, the oldest elephant who ever lived, the soldiers who fought in the jungles of South-East Asia during World War II, and the secret world of butterfly handicraft makers in Taiwan. The result is both a majestic historical novel and a profound, startlingly intimate meditation on memory, family and home. Wu's writing has been compared to that of Margaret Atwood, Haruki Murakami, W.G. Sebald and Yann Martel.
About the Author
Award-winning novelist Wu Ming-Yi is also an artist, designer, photographer, literary professor, butterfly scholar, environmental activist, traveller and blogger, and is widely considered the leading writer of his generation in his native Taiwan. His work has been translated into nine languages and compared to that of writers such as Margaret Atwood, Haruki Murakami, David Mitchell and Yann Martel.