You are here
Back to top
Leonardo Da Vinci's Life of Invention (Hardcover)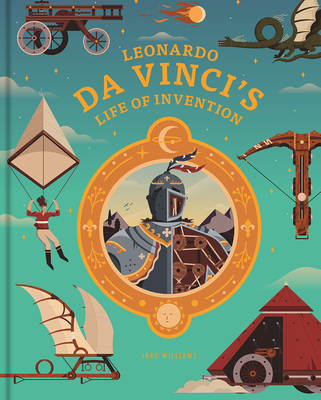 $15.99

Usually Ships in 1-5 Days
Description
---
Immerse yourself in the world of the spellbinding genius Leonardo da Vinci, master of art, architecture, engineering, mathematics and more. From his futuristic inventions to the breadth of his artistic skill, discover the fascinating life and legacy of the Renaissance man.
The award-winning author and illustrator behind Darwin's Voyage of Discovery and Really Remarkable Reptiles turns his attention to the Renaissance man: Leonardo da Vinci.
Leonardo da Vinci was a master of art, architecture, engineering, mathematics and more. Discover his relationship with the natural world, his futuristic inventions and the breadth of his artistic skill in this spellbinding celebration of his genius.
Follow his early years - born to a poor mother and receiving no formal education, it is amazing that an innate fire of curiosity and imagination fuelled this man to achieve extraordinary success and a place amongst history's elite. Learn about his legacy today - the bewitching power of the world's most famous portrait, the Mona Lisa - as well as the influence of his inventions in modern daily life.
This gorgeous hardback is filled with Jake Williams' characteristically stylish illustrations.
About the Author
---
Jake Williams is a Plymouth-based illustrator, designer and occasional animator. He creates shape-based vector illustration with bold and vibrant colours. Jake's work has been featured in Creative Boom, Adobe and The Bookseller, and was awarded BDC's New Designer of The Year 2017.
Welcome!
The Narrow Gauge Book Cooperative is a community-owned, independent bookstore located in Alamosa, Colorado, in the heart of the San Luis Valley. We sell new and used books and a small assortment of local foods and goods.
To learn more about who we are, read our story about how a community came together to save their beloved, historic bookstore.
If you've come to browse our inventory and shop online, you're at the right place!