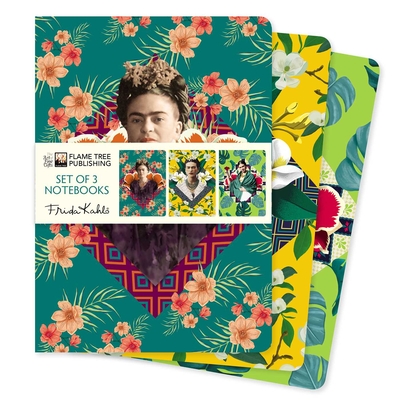 Frida Kahlo Set of 3 Standard Notebooks (Standard Notebook Collection)
Publication Date:
November 14th, 2023
Publisher:
Flame Tree Gift
Usually Ships in 1 to 5 Days
Description
Shrink-wrapped set of 3 standard A5 notebooks, each with a different design. Stitched spine, with ruled and blank pages. High-quality production makes a stunning gift. Ideal for personal use too.
A collection of three A5, foiled notebooks with alternating lined and blank pages. Each notebook has a different beautiful design: With a sturdy cover and rounded corners, they are perfect to be carried everywhere!
One of the most iconic artists of the 20th century, Frida Kahlo's bold, carefully crafted visual identity is in many respects an extension of her art, celebrating her Mexican heritage and countercultural ideals while defying traditional notions of female beauty. Striking and bursting with colour, her portraits resonate as much today as ever.
Flame Tree: The Art of Fine Gifts.