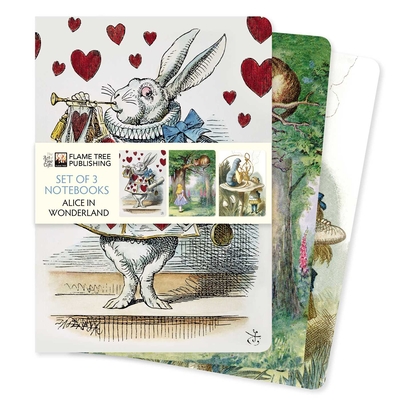 Alice in Wonderland Set of 3 Standard Notebooks (Standard Notebook Collection)
Publication Date:
November 14th, 2023
Publisher:
Flame Tree Gift
Description
Shrink-wrapped set of 3 standard A5 notebooks, each with a different design. Stitched spine, with ruled and blank pages. High-quality production makes a stunning gift. Ideal for personal use too.
The Alice in Wonderland Set of 3 Standard Notebooks features a collection of three A5, foiled notebooks with alternating lined and blank pages. Each notebook has a different beautiful design by Sir John Tenniel: The White Rabbit, Alice and the Cheshire Cat and Alice Meets the Blue Caterpillar. With a sturdy cover and rounded corners, they are perfect to be carried everywhere!
Lewis Carroll's Alice's Adventures in Wonderland remains one of the best-loved fantasy tales, with the White Rabbit, the Mad Hatter, the Caterpillar, the Queen of Hearts and the Cheshire Cat enjoying an enduring legacy in popular imagination. This gorgeous collection shows some of the most iconic scenes and characters from the book.
Flame Tree: The Art of Fine Gifts.