You are here
Back to top
Immigrant Sci-Fi Short Stories (Gothic Fantasy) (Hardcover)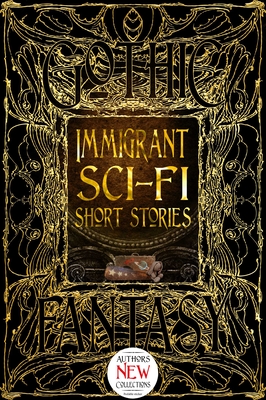 $30.00

Usually Ships in 1-5 Days
Description
---
Speculative fiction from the perspective of the immigrant, old and new, stories from the distant past and the far future, with a call to the experience of the present.

Tales from writers with Latinx, Caribbean, Asian, African, Arabic, North American, East European origins, and more, challenge the reader with stories that spill out into space, parallel realms or just hidden in plain sight. The stories explore the world from the perspective of the incoming, whether necessitated through war or oppression, financial or familial need, or with hope for a better future, examining visions of displacement and relocation in future and speculative settings. New stories selected from open submissions are set alongside classic sci-fi by the likes of Otto (Eando) Binder and Zenna Henderson, modern stories by such authors as Celu Amberstone and Ken Liu, and older, realist immigrant narratives by Abraham Cahan, Sui Sin Far, Lee Yan Phou, Constantine Panunzio and more. Complemented by a foreword by author E.C. Osondu and an insightful introduction by Betsy Huang, Ph.D., this is an intriguing view of the conflict and anxiety between the settled and the unsettled.

The Flame Tree Gothic Fantasy, Classic Stories and Epic Tales collections bring together the entire range of myth, folklore and modern short fiction. Highlighting the roots of suspense, supernatural, science fiction and mystery stories, the books in Flame Tree Collections series are beautifully presented, perfect as a gift and offer a lifetime of reading pleasure.
About the Author
---
E.C. Osondu is a prize-winning Nigerian writer and Professor of English at Providence College, Rhode Island, USA. He is the author of two novels – This House is Not For Sale and When the Sky is Ready the Stars Will Appear – and two short-story collections – Voice of America and Alien Stories. His work has been translated into many languages.

Betsy Huang is Associate Provost and Dean of the College, the Andrea B. and Peter D. Klein '64 Distinguished Professor, and Associate Professor of English at Clark University. Her work spans the overlapping spheres of US Multi-ethnic and Asian American Literature, Speculative Fiction, Genre Theory and Critical Ethnic Studies.

Sarah Rafael García is a writer, educator and performance ethnographer. Author of Las Niñas and SanTana's Fairy Tales (now a required Ethnic Studies text) and co-editor of Pariahs: Writing from Outside the Margins and Speculative Fiction for Dreamers, she is also founder of the BIPOC art programmes Barrio Writers, LibroMobile and Crear Studio.
Welcome!
The Narrow Gauge Book Cooperative is a community-owned, independent bookstore located in Alamosa, Colorado, in the heart of the San Luis Valley. We sell new and used books and a small assortment of local foods and goods.
To learn more about who we are, read our story about how a community came together to save their beloved, historic bookstore.
If you've come to browse our inventory and shop online, you're at the right place!