You are here
Back to top
America's National Parks (Hardcover)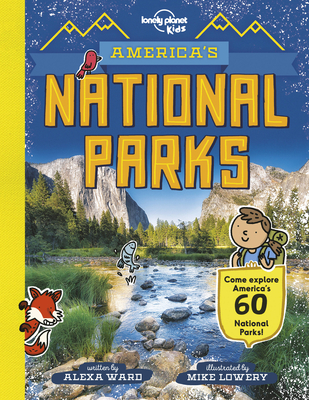 $22.95
Usually Ships in 1-5 Days
Description
---
Calling all adventurers! Are you ready to explore America's 60 amazing national parks?
From Acadia's seaside cliffs and coves to Zion's enchanting red valleys, take a journey through the United States' most spectacular and exciting landscapes with America's National Parks from Lonely Planet Kids.
With awesome facts, photos and illustrations on every page, you'll discover erupting geysers, exploding volcanoes, howling wolves, soaring eagles, mountains, glaciers, rainforests and more throughout the continental USA, Hawaii, American Samoa and the US Virgin Islands.
America's national parks are bursting with gasp-worthy wonders: the world's largest tree with branches stretching 400 feet into the sky; the planet's grandest canyon 6,000 feet deep; a crystal-clear lake deeper than the Empire State Building.
Meet the animals roaming each park, including gators, bison, gray wolves, spotted salamanders, great horned owls, bald eagles and grizzly bears, and find out the best activities, like snorkeling, white-water rafting, hiking, winter sports, exploring ghost towns and geyser watching.
About Lonely Planet Kids: Lonely Planet Kids - an imprint of the world's leading travel authority Lonely Planet - published its first book in 2011. Over the past 45 years, Lonely Planet has grown a dedicated global community of travelers, many of whom are now sharing a passion for exploration with their children. Lonely Planet Kids educates and encourages young readers at home and in school to learn about the world with engaging books on culture, sociology, geography, nature, history, space and more. We want to inspire the next generation of global citizens and help kids and their parents to approach life in a way that makes every day an adventure. Come explore!
Welcome!
The Narrow Gauge Book Cooperative is a community-owned, independent bookstore located in Alamosa, Colorado, in the heart of the San Luis Valley. We sell new and used books and a small assortment of local foods and goods.
To learn more about who we are, read our story about how a community came together to save their beloved, historic bookstore.
If you've come to browse our inventory and shop online, you're at the right place!