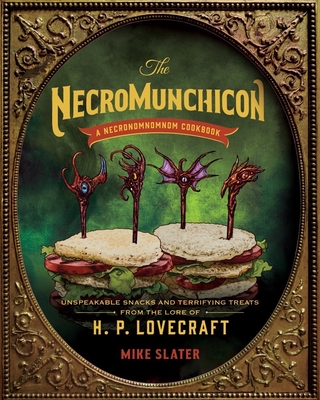 The Necromunchicon: Unspeakable Snacks & Terrifying Treats from the Lore of H. P. Lovecraft
Publication Date:
October 3rd, 2023
Publisher:
Countryman Press
Usually Ships in 1 to 5 Days
Description
Make scrumptious sacrifices to the Ancient Ones with these bloodcurdling bites for haunted housewarmings, inglorious game nights, and other grim gatherings.
Returning to the slime-covered ruins of the city of R'lyeh and the tentacled deity who slumbers there would make anyone hungry. The terrifying trio behind the best-selling Necronomnomnom have summoned forth another gruesome grimoire: a throng of more than 50 nightmarish nibbles. Organized by taste (bitter, salty, savory, sour, sweet), these ominous noshes will satisfy all your depraved cravings, from the A-tacolypse, Carni-S'mores, and Hot Cthocolate to Maca-Runes, Necronomicorn, and There Cannoli Be One. Mercilessly tested, these puntastic dishes pay horrifying homage to the Lovecraftian cosmos. Like The Necronomicon—the legendary, forbidden book of the dead that's "alien to all sane and balanced readers"—this tome contains many delicious, malicious secrets within its pages. Appeasing your appetite while shattering your sanity, it comes riddled with mesmerizing illustrations and desperate warnings from those who have gone before. It will bring frightful delight for all the days of darkness to come.
THE NECROMUNCHICON has not been authorized, licensed, endorsed, or approved by Lovecraft Properties, LLC.
Praise for The Necromunchicon: Unspeakable Snacks & Terrifying Treats from the Lore of H. P. Lovecraft
Fans of H. P. Lovecraft and the macabre will love The Necronomnomnom. . . . The grimoire's 50 recipes . . . are sure to bring a smile (or shudder) to anyone who reads them.
— Arkansas Democrat Gazette
The name alone sold me, but after digging into the book itself, I'm even more impressed with the recipes and level of detail that author Mike Slater put into The Necronomnomnom.
— Daily Dead
You will love this book for all of the gore-filled recipes based on Lovecraft stories, creatures, and characters. The illustrations that accompany each recipe are fantastic. . . . Super creative . . . it's definitely a book you will want for your creepy collection, and it's perfect as a recipe guide for your next Halloween party.
— FSM Media
The Necronomnomnom perfectly captures the flavor of Lovecraft's stories. . . . Tasty and unsettling . . . this book would make a fine gift and look pretty cool on a shelf. . . . For those who love Lovecraft or throwing interesting Halloween parties, this is one tome of lore that is both fun and tasty to dive into.
— Game Industry News
Appealing. . . . Unlike in the real Necronomicon, the concoctions in this grimoire are harmless to conjure up. But maybe don't read the instructions aloud . . . just to be safe.
— Geeks of Doom
When we saw this, we realized instantly it was the kind of product we liked and that you would like. . . . The inside has the look of an ancient grimoire with stained backgrounds and teems with marvelous illustrations. . . . Written out by Mike Slater with a kind of manic care that the HPLHS deeply appreciates.
— H. P. Lovecraft Historical Society
A Cthulhu-sized amount of fun. . . . This beastly book is loaded to Dagon's gills with absolutely stunning illustrations . . . a wonder to behold. . . . Lovecraft aficionados will eat up The Necronomnomnom . . . literally.
— Horror Fuel
Your must-have guide to Halloween-season eats . . . a side-splitting romp through Lovecraft's oeuvre of oddities. Punnishingly delightful names . . . are sure to please the longtime fan and Lovecraftian neophytes.
— San Antonio Express-News
Absolutely hilarious! . . . This cookbook looks like a work of art. It's beautiful. . . . Great detail was put into making the text sound like it is straight out of one of H. P. Lovecraft's stories.
— This Geek Loves Food
Creepy and spooky. . . . Maybe you're planning a Lovecraft party, or a Halloween party, or you just want a book of spells to read. Either way, you're set with this hefty, well-appointed tome . . . [that has] the ability to chill you to the bone. 
— The Providence Journal
A handsome volume, with a beautiful embossed cover and copious illustrations. . . . If you're a Lovecraft fan, this is one you'll want to own.
— The Steampunk Explorer
Wonderful and fun. . . . Not only is the cookbook well produced with great art design, but the content is exceptional. . . . Beautifully done . . . this is an excellent cookbook, and if you are a fan of Lovecraft or just a fan of the macabre, you will love this. If you, like me, are a cookbook collector, this is an indisputable classic that is a must-have.
— The Well Seasoned Librarian