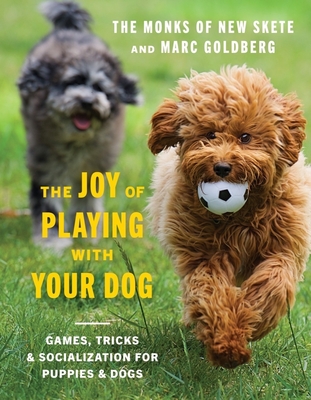 The Joy of Playing with Your Dog: Games, Tricks, & Socialization for Puppies & Dogs
Publication Date:
November 14th, 2023
Publisher:
Countryman Press
Usually Ships in 1 to 5 Days
Description
Game-based learning is a powerful tool to successful puppy rearing and dog ownership.With this exciting guide to playful and social activities for puppies and dogs, you'll immediately enjoy drastically improved behavior and a stronger connection with your dog. 
Dogs live to play! It's hardwired into their DNA. And when approached with intention, play provides the perfect opportunity to support behavioral development, obedience, and develop strong bonds between pup and owner that will last a lifetime.  
The Joy of Playing with Your Dog guides you through a program of structured play with activities that lead to both better dog-to-dog and dog-to-human relationships. The games, tricks, and socialization techniques are designed specifically for puppies, adult, and even senior dogs.   
Discover the pleasure of science-based learning as you play our version of Hide and Seek and Red Light Green Light with your dog! Fetch taps into a dog's prey drive, so he'll use it in a healthy manner and Speak helps to manage excessive barking. Games like Ping Pong Recall teach your dog to come when called even with distractions. Hyper dogs become calmer with games that teach them how to develop an "off switch." Teaching tricks like Roll Over and activities that include simple agility training at home will strengthen your bond with your dog. The critical section on socialization—an important skill that's missing from most dog behavior programs-- teaches you how to successfully introduce and adopt dogs, as well as navigate dog parks. 
With over 200 cheerful, full-color photos, you'll have all the inspiration and tools you need to cultivate good behavior with games and enrich the precious shared life between you and your dog.