You are here
Back to top
Three Summers (Paperback)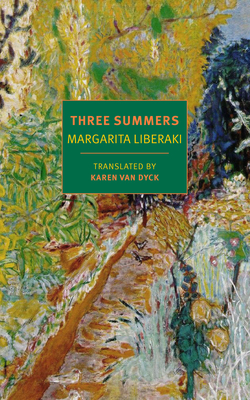 Description
---
A tender story about three sisters coming of age in Greece over the course of three summers, now available after being out of print for over twenty years.

Three Summers is the story of three sisters growing up in the countryside near Athens before the Second World War. Living in a big old house surrounded by a beautiful garden are Maria, the oldest sister, as sexually bold as she is eager to settle down and have a family of her own; beautiful but distant Infanta; and dreamy and rebellious Katerina, through whose eyes the story is mostly observed. Over three summers, the girls share and keep secrets, fall in and out of love, try to figure out their parents and other members of the tribe of adults, take note of the weird ways of friends and neighbors, worry about and wonder who they are. Karen Van Dyck's translation captures all the light and warmth of this modern Greek classic.
About the Author
---
Margarita Liberaki (1919-2001) was born in Athens and raised by her grandparents, who ran the Fexis bookstore and publishing house. In addition to Three Summers, she wrote two further novels, The Other Alexander (1950) and The Mystery (1976); a number of plays, including Candaules' Wife (1955) and The Danaïds (1956), part of a cycle she called Mythical Theater; several screenplays, including Jules Dassin's Phaedra (1962) and Diaspora (1999), about Greek intellectuals in exile in Paris during the junta; and a translation of Treasure Island (2000). Three Summers is now a standard part of Greek and Cypriot public education; it was adapted as a television miniseries in 1995. 

Karen Van Dyck is the Kimon A. Doukas Professor of Modern Greek Literature at Columbia University. She writes on modern Greek and diaspora literature and on gender and translation. She has edited or co-edited several volumes of poetry, including A Century of Greek Poetry (2004); The Greek Poets: Homer to the Present (2010); and, for NYRB Poets, Austerity Measures: The New Greek Poetry (2017). Her translations have appeared in Brooklyn Rail, Asymptote, and The Baffler.
Praise For…
---
"A leisurely, largehearted coming-of-age novel, earthy and innocent, nostalgic and beautifully rendered." —Kirkus

"Liberaki . . . certainly wrote unlike others of her generation. . . . [Three Summers] pushed the bounds of the possible: juggling narrative voices and modes, upending expectations for a conventional narrative arc, folding scenes of teenage sex into a book published in 1946." —Karen Emmerich, Public Books

"Sweet, light, and a dreamy escape . . . The book is so transporting to early adolescence, but with fresher strawberries than you ever got to eat!" —Lit Hub

"Over and above . . . innovation in the form of the Greek novel, Liberaki also made what we might consider a feminist political contribution to Greek letters. Following Woolf, she captures life as it is lived in small 'moments of being,' especially of female domestic rituals . . . translating these private moments into the public language that had effectively been forbidden to Greek women." —Niko Maragos, Electric Literature

"Makes for an appealing and quite rich novel of young women's lives—with interesting secondary characters and stories, too—with some creative twists and touches by Liberaki in how she presents and unfolds her tale. . . . the writing is strong and often arresting. A nice piece of work." —The Complete Review

"In this unforgettable novel, lush and evocative passages are interspersed with candid, astringent, and often unsettling insights about adolescence, desire, and the mysterious web of human relationships. Margarita Liberaki's sensuousness has an edge, and her tartness has a compelling sweetness. Enthralled, the reader moves deeper and deeper into her summery world." —Rachel Hadas

"This cinematic, sun-drenched novel about innocence and experience depicts a vanished era of bourgeois pleasures against the gardens and olive groves of one of Athens's oldest suburbs. The mores of Athenian society are in tension with the drives and abundance of the Greek landscape itself: even the orderly pistachio orchards, with their male and female trees yearning for communion, vibrate with sex, heat, color, flavor, and scent. Karen Van Dyck's translation vividly reenacts Liberaki's color-saturated prose." —A.E. Stallings


Welcome!
The Narrow Gauge Book Cooperative is a community-owned, independent bookstore located in Alamosa, Colorado, in the heart of the San Luis Valley. We sell new and used books and a small assortment of local foods and goods.
To learn more about who we are, read our story about how a community came together to save their beloved, historic bookstore.
If you've come to browse our inventory and shop online, you're at the right place!