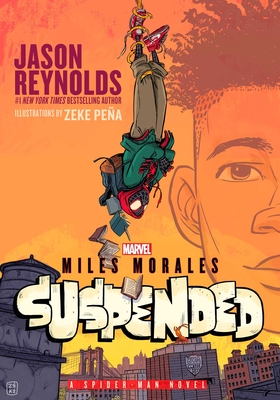 Miles Morales Suspended: A Spider-Man Novel
Publication Date:
May 2nd, 2023
Publisher:
Atheneum/Caitlyn Dlouhy Books
Usually Ships in 1 to 5 Days
Description
From #1 New York Times bestselling author Jason Reynolds comes the "action-packed…banter-filled" (School Library Journal, starred review) sequel to his groundbreaking young adult novel Miles Morales: Spider-Man about the adventures of the unassuming, everyday kid who just so happens to be Spider-Man.
Miles Morales is just your average teenager. He has unexpectedly become totally obsessed with poetry and can never seem to do much more than babble around his crush. Nothing too weird. Oh! Except, just yesterday, he used his Spidey superpowers to save the world (no biggie) from an evil mastermind called The Warden. And the grand prize Miles gets for that is…
Suspension.
But what begins as a long boring day of in-school suspension is interrupted by a little bzzz in his mind. His Spidey Sense is telling him there's something not quite right here, and soon he finds himself in a fierce battle with an insidious…termite?! His unexpected foe is hiding a secret, one that could lead to the destruction of the world's history—especially Black and Brown history—and only Miles can stop him. Yeah, just a typical day in the life of your friendly neighborhood Spider-Man.
Praise for Miles Morales Suspended: A Spider-Man Novel
The hybrid verse/prose format adds to the action-packed story line and provides an amusing, banter-filled tone, which Reynolds is exceptionally skilled at for drawing in even the most reluctant of readers. As tensions build, the termites embody censorship, a powerful topic brought up often via current events in schools and prisons across the country. Miles is complex, as he courageously argues for books to "try to read and write themselves free" and attempts to grab Alicia's attention by writing poetry, which is realistically awkward and sweet. Although Ganke's role is spare in this volume, readers will delight in this spirited character as he supports his bestie Miles and provides extra comic relief during stressful situations. Peña's comic-style illustrations enhance the story by reflecting the Spiderman side of our hero. Cultural references such as grease in the Bustelo can, bodegas, and dap depict the authenticity of Miles's world. Librarian Spidey senses are tingling; this is a must for your shelves.
— School Library Journal, STARRED REVIEW
This sequel is more multilayered than the first installment, with action-packed digital drawings, Miles's first-person poems, and a third-person narrative all capturing a day in the life of Miles Morales—his neighborhood, his crush on Alicia Carson, his friendship with Ganke, and his conflict with teachers. There is room, though, for a climactic action scene in the boys' bathroom, where a creepy monster is thrillingly unmasked. 
— Horn Book Magazine