You are here
Back to top
The Story of Leonardo Da Vinci: A Biography Book for New Readers (Paperback)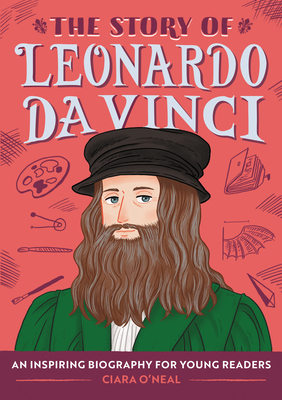 $6.99
Usually Ships in 1-5 Days
Description
---
Discover the life of Leonardo da Vinci--a story about uncovering new things for kids ages 6 to 9
Leonardo da Vinci was a famous artist and thinker. He created well-known paintings like the Mona Lisa and The Last Supper, and even had ideas for modern-day inventions like cars and contact lenses. Before he amazed the world with his creative mind, he was a bright kid who loved asking questions.
As a teenager, he studied under an expert artist who taught him different ways to create, like painting and sculpting. Explore how Leonardo went from being a thoughtful young boy to an artistic genius whose artwork still hangs in museums all over the world.
The Story of Leonardo da Vinci includes:
Core curriculum standards--Learn the Who, What, Where, When, Why, and How of Leonardo's life, and test your knowledge with a fun quiz.
His lasting legacy--Discover more about how Leonardo da Vinci changed the world for future generations, including you
A visual timeline--Explore a timeline marking the major milestones of Leonardo's life so you can watch him progress from a little kid to a brilliant artist.
How will Leonardo's unstoppable imagination inspire you?
Welcome!
The Narrow Gauge Book Cooperative is a community-owned, independent bookstore located in Alamosa, Colorado, in the heart of the San Luis Valley. We sell new and used books and a small assortment of local foods and goods.
To learn more about who we are, read our story about how a community came together to save their beloved, historic bookstore.
If you've come to browse our inventory and shop online, you're at the right place!