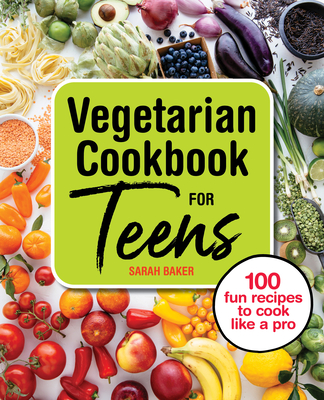 Vegetarian Cookbook for Teens: 100 Fun Recipes to Cook Like a Pro
Publication Date:
May 26th, 2020
Publisher:
Rockridge Press
Usually Ships in 1 to 5 Days
Description
Be good to your body, animals, and the planet—vegetarian cooking for teens
Whatever your reason for exploring vegetarian cooking—your love of animals, reducing your carbon footprint, or the variety of health benefits—the Vegetarian Cookbook for Teens will show you that meatless cooking goes way beyond a life of sprouts and salads. In fact, vegetarian cooking can be fun, easy, flavorful, and lead to a lifetime of wellness.
This cookbook for teens is filled with delicious recipes like Sweet Walnut Apple Salad and Avocado Chickpea Pasta Bowl that will help you gain confidence in the kitchen, regardless of experience, with step-by-step guidance. From how to create a savory breakfast burrito in five minutes flat, to how to simmer up a hearty vegetarian chili with your own creative twist, these delicious creations may even encourage your parents, siblings, and friends to move to more of a vegetarian lifestyle.
Inside the Vegetarian Cookbook for Teens you'll find:
New chefs welcome—Do you know the difference between boiling and simmering or what tools you'll need?—You will now.
Naturally tasty—Discover 100 recipes that are made up of wholesome and natural ingredients yet never sacrifice taste.
Earth-healthy—This cookbook for teens includes interesting facts about vegetarian nutrition, including how a plant-based diet helps the environment.
Take control of what's going into your growing body with the Vegetarian Cookbook for Teens.
Praise for Vegetarian Cookbook for Teens: 100 Fun Recipes to Cook Like a Pro
"Whether you are new to the vegetarian lifestyle or looking to expand your list of go-to recipes, the Vegetarian Cookbook for Teens is the ultimate guidebook using whole food, nutrient-dense recipes that any naturopathic doctor would approve of." —Dr Kelsie Lazzell, ND, DC
"Sarah Baker has created an awesome, easy-to-use guide for teens who would like to prepare delicious and nutritious vegetarian meals. She has developed recipes that are simple yet exciting, and I've already made several of the recipes myself. These mouthwatering dishes will help anyone (teen or not) be excited about preparing food for themselves and their families. Every teen should have this book!" —Sapna Dalal, founder and creator of The Vegetarian Tourist (www.vegetariantourist.com)
"Not only are these recipes packed with nutrient-dense superfoods to fuel growing brains and bodies, but they are also simple to make and have a major fun factor. Blueberry banana protein pancakes—yes, please! Every teenager needs this cookbook in their life." —Jessica Dogert, Registered Dietitian Nutritionist and creator of Nutrition For A Limitless Brain