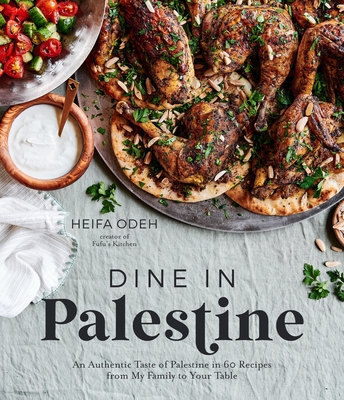 Dine in Palestine: An Authentic Taste of Palestine in 60 Recipes from My Family to Your Table
Publication Date:
September 13th, 2022
Publisher:
Page Street Publishing
Description
Bring the Bold Flavors of Palestine into Your Kitchen
Re-create traditional, flavorful Palestinian meals at home with this comprehensive collection of Middle Eastern recipes. From familiar favorites like Dawali (Stuffed Grape Leaves with Beef), Shawarma and Baklawa, to more complex meals like Musakhan, Palestine's national dish, Heifa Odeh has carefully adapted her family recipes with streamlined techniques, making it easier than ever to enjoy a taste of Palestine.
Explore the full range of this rich cuisine from boldly flavored breakfasts like Ka'ek El Quds (Jerusalem Sesame Bread) and satisfying mains like Pomegranate Molasses & Harissa Salmon, to sweet treats like traditional Palestinian Knafeh, Fig & Honey Pistachio Cake and beyond. Whether you have been making Arab cuisine for ages or you are looking to expand your repertoire, this cookbook has something for everyone.
Praise for Dine in Palestine: An Authentic Taste of Palestine in 60 Recipes from My Family to Your Table
"Dine In Palestine is a beautiful book, and Heifa has captured the true essence of Palestine in this treasure through her touching commentary. The recipes are vibrant, varied and delicious. You will want to cook everything!"
—Joudie Kalla, best-selling author of Palestine on a Plate and Baladi