You are here
Back to top
Calling for a Blanket Dance (Hardcover)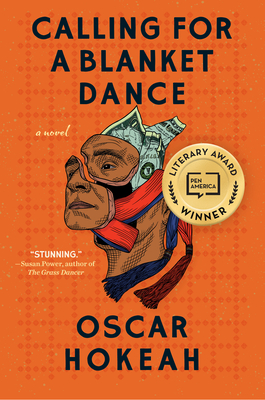 $27.00

Usually Ships in 1-5 Days
August 2022 Indie Next List
---
"This is an incredible family epic in sleek, unpretentious form. Hokeah uses his characters as crisp prisms through which we see the nature of family: vicious and precious, mournful and joyful, everything in-between. A remarkable debut!"
— Amanda Qassar, Warwick's, La Jolla, CA
Description
---
Winner of the PEN America/Hemingway Award for Debut Novel * Finalist for the 2023 Aspen Words Literary Prize * Finalist for the L.A. Times Book Prize/Art Seidenbaum Award for First Fiction  
"A profound reflection on the intergenerational nature of cultural trauma… Hokeah's characters exist at the intersection of Kiowa, Cherokee and Mexican identity, which provides a vital exploration of indigeneity in contemporary American letters." —The New York Times Book Review

A moving and deeply engaging novel about a young Native American man as he learns to find strength in his familial identity. ​

Oscar Hokeah's electric debut takes us into the life of Ever Geimausaddle, whose family—part Mexican, part Native American—is determined to hold onto their community despite obstacles everywhere they turn. Ever's father is injured at the hands of corrupt police on the border when he goes to visit family in Mexico, while his mother struggles both to keep her job and care for her husband. And young Ever is lost and angry at all that he doesn't understand, at this world that seems to undermine his sense of safety. Ever's relatives all have ideas about who he is and who he should be. His Cherokee grandmother, knowing the importance of proximity, urges the family to move across Oklahoma to be near her, while his grandfather, watching their traditions slip away, tries to reunite Ever with his heritage through traditional gourd dances. Through it all, every relative wants the same: to remind Ever of the rich and supportive communities that surround him, there to hold him tight, and for Ever to learn to take the strength given to him to save not only himself but also the next generation.

How will this young man visualize a place for himself when the world hasn't made room for him to start with? Honest, heartbreaking, and ultimately uplifting, Calling for a Blanket Dance is the story of how Ever Geimausaddle finds his way home.

"STUNNING." —Susan Power, author of The Grass Dancer
About the Author
---
Oscar Hokeah is a citizen of Cherokee Nation and the Kiowa Tribe of Oklahoma from his mother's side and has Mexican heritage through his father. He holds an MA in English with a concentration in Native American Literature from the University of Oklahoma, as well as a BFA in Creative Writing from the Institute of American Indian Arts (IAIA), with a minor in Indigenous Liberal Studies. He is a recipient of the Truman Capote Scholarship Award through IAIA and is also a winner of the Native Writer Award through the Taos Summer Writers Conference. His short stories have been published in South Dakota Review, American Short Fiction, Yellow Medicine Review, Surreal South, and Red Ink Magazine. He works with Indian Child Welfare in Tahlequah.
Praise For…
---
Winner of the PEN America/Hemingway Award for Debut Novel
Finalist for the 2023 Aspen Words Literary Prize
Finalist for the L.A. Times Book Prize/Art Seidenbaum Award for First Fiction

A TIME Must-Read Book of 2022
A BookPage Best Fiction Book of 2022
A Kirkus Reviews Best Fiction and Best Debut Book of 2022

"With intricate prose and unflinching vernacular, Oscar Hokeah chronicles a family and a community. We learn trials and aspirations for each generation, and witness what is woven into complicated arrival. We need these characters and their testimonies. But more than that, we crave –I crave—this kind of honest storytelling. These rhythms. These dances. This beauty. This welcoming to a place where the people speak and are unafraid."
—Honorée Fanonne Jeffers, author of The Love Songs of W.E.B. Du Bois

"A profound reflection on the intergenerational nature of cultural trauma… Hokeah's characters exist at the intersection of Kiowa, Cherokee and Mexican identity, which provides a vital exploration of indigeneity in contemporary American letters."
—The New York Times Book Review
 
"Hokeah skillfully recreates the years leading up to and following Ever's birth, capturing the traumas and complexities that shaped him into who he is and may determine who he becomes."
—TIME
 
"Quaking with age-old righteous anger but nevertheless luminescent with hope."
—ELLE

"Oscar Hokeah explores family and identity, past and present, in his debut novel… Above all, the book explores family relationships, obligation, resentment, and devotion."
—The Boston Globe

"Hokeah's prose is punchy and descriptive, filled with Native American words and phrases that come naturally to the characters. This blending of languages is still uncommon in contemporary fiction, but the current Indigenous literary and cultural renaissance promises that more voices will grow this singularity into a rich multitude. But of course, renaissance is the wrong word to use here. Hokeah, who is of Mexican heritage as well as a citizen of the Cherokee Nation and the Kiowa Tribe of Oklahoma, shows that this tradition has been here the whole time, evolving and surviving."
—BookPage
 
"This miraculous story presents a collective imagining not only of who its main character is, but who everyone else anticipated and dreamed he could become. It is a must-read."
— BuzzFeed
 
"Drawing on a wealth of Indigenous tradition, Hokeah has produced in his debut a novel that underscores the quiet strength that arises when a family is true to its identity and the too common tragedy that results when identity is suppressed."
—The Millions
 
"An auspicious debut . . . Recalling both Tommy Orange and Gabriel Garcia Marquez in its narrative structure . . . A book to deeply invest in."
—Chicago Review of Books
 
"Remarkable."
—Shondaland
 
"Told from a variety of voices, this story is one of love, loss, growth, tradition and evolution. Not to be missed."
—Ms. Magazine
 
"[A] captivating debut . . . with striking insight into human nature and beautiful prose, this heralds an exciting new voice."
—Publishers Weekly, starred review

"What is wonderful about Hokeah's debut is that each character gets to tell their own story, while also covering Ever's life, who they each feel responsible for as part of their family and community. ... What we have with this book is a complete picture of one person as seen by others, and an entire community made up of Kiowa, Cherokee, and Mexican Americans, each with their own language, speech rhythms, and ways of seeing the world."
—Literary Hub
 
"Hokeah's debut will feel familiar to fans of Louise Erdrich and Tommy Orange . . . A novel that builds in richness and intricacy . . . Another noteworthy debut in what feels like an ongoing renaissance of Indigenous peoples' literature, both reflecting this lineage and introducing an exciting, fresh new voice to the choir."
—Library Journal

"As in the novels of Louise Erdrich and Tommy Orange, the chorus of voices—rendered in unadorned vernacular peppered with Indigenous words—evokes a close-knit Native community in all its varied humanity, anchored by tradition while marked by injustices past and present… Simply told and true to life."
—Kirkus Reviews

"A masterwork of peripheral narration."
—Kirkus Reviews, "Best of 2022: A Year of the 'Fully Booked' Podcast"

"Oscar Hokeah's debut novel… reads like a Louise Erdrich novel. Yet, while this inspiration seems clear, Hokeah's story is profoundly original."
—Chicago Review of Books

"A moving symphony of voices, and a beautiful story about loss and belonging."
—Book Riot

"Hokeah's novel not only tells a story that is ultimately uplifting, but also immerses readers in Oklahoma's Kiowa, Cherokee and Mexican communities… Ever and his family aren't looking for a way to define themselves within a larger national identity, but they are trying to pry their lives from the forces of generational trauma that shape their community."
—Minneapolis Star Tribune

"With beautiful prose and a deeply moving cast of characters, Calling for a Blanket Dance introduces Oscar Hokeah as an important and exciting new voice in literary fiction."
—Electric Literature

"Speaking to a shared experience of many Indigenous peoples, this novel puts readers in the shoes of a people trying to make their way in a country that has stolen their place."
—Morning Brew's Sidekick
 
"A necessary and important addition to your TBR."
—The Young Folks

"A coming-of-age tale that is uniquely Kiowa and Cherokee, and that celebrates connection, family and honor."
—Minnesota Public Radio / MPR News with Kerri Miller
 
"A coming-of-age tale that is uniquely Kiowa and Cherokee, and that celebrates connection, family and honor."
—Minnesota Public Radio / MPR News with Kerri Miller
 
"Riveting… Hokeah's character's work their way through and beyond so many obstacles. What emerges is an authentic cultural voice speaking on behalf of the many ways family bonds bend, break, and hold on forever."
—KCUR (Kansas NPR) / Up To Date
 
"Filled with astonishing immediacy, and embellished with Hokeah's authentic voice, these epic stories soar with indelible images of a proud, but challenged, people who find strength through their blood-lines and their enduring familial love. Some characters are so broken and bitter that I was moved to tears. But most characters persevere, and thrive, through the indomitable will and pride of their heritage. Hokeah has accomplished something unique here. In his quietly brilliant depiction of his Cherokee/Kiowa/ Mexican heritage he has dipped into his medicine bag and gifted us with a small but compelling masterpiece. This should be required reading for every American."
—Kiana Davenport, author of Shark Dialogues
  
"The characters that populate Calling for a Blanket Dance are real, amazing, vulnerable and beautiful in their flaws and, even despair—Oscar Hokeah unveils their suffering and joy, their struggle to live with honor, care for family, walk right. What an accomplishment. Few writers have the courage or craft to pull this off. Oscar Hokeah beats the drum and stomps, announcing his power is back, the people have returned with powerful stories. He weaves a tale that is unforgettable and fortifying. I couldn't put the book down."
—Jimmy Santiago Baca, author of A Place to Stand
 
"Calling for a Blanket Dance is a stunning novel. Oscar Hokeah writes from deep inside the heart of his communities, bringing life to generations of voices who became so real to me they felt like relatives. The reader can't help but invest in each character as they navigate bitter challenges, sometimes surprising themselves with their strength, their ability to survive and love. Hokeah's prose gorgeously weaves authentic local vernacular with the lyrical notes of hard-won insight. This novel belongs on every recommended booklist for fans of literary fiction."
—Susan Power, author of The Grass Dancer
 
"Hokeah offers us a rich tapestry of interconnected narratives, a chorus of distinct voices battling against history, failing bodies, and barren landscapes. We move through decades, fall in love and despair with the Geimaussadle family. The scale and beauty reminds you of One Hundred Years of Solitude set in Oklahoma. Here's a True American Epic."
 —Gabriel Bump, author of Everywhere You Don't Belong
 
"As a plethora of voices accompany Ever Geimausaddle's upbringing, we learn of challenges and resilience, the multilingual language of hope and the grace of forgiveness. Their lives, tender and difficult, full of awe and learning, remind us that the borderlands are fluid regions where families have intermingled, overcome challenges, and danced together for centuries."
—Cristina Rivera Garza, author of Grieving: Dispatches from a Wounded Country
 
"Oscar Hokeah is the real deal.  A new voice with ancient music."
—Luis Alberto Urrea, author of The House of Broken Angels

"Oscar Hokeah brings to life a kaleidoscope of characters from an unforgettable Native American family. His depiction of Indigenous cultures honors their strength of community with remarkable love and healing humor, sending out a vital drumbeat of hope for future generations."
—Christian Science Monitor

"[Calling for a Blanket Dance] crosses multiple generations and cultures, always with a generous eye, connecting every strand in an indelible vision." 
—Spectrum Culture

"Author Oscar Hokeah and narrator Rainy Fields both give vivid, emotional performances in this intergenerational drama… Together, Hokeah and Fields bring this multifaceted novel to life, drawing listeners into the messy web of community and family that Ever inhabits."
—AudioFile Magazine

"A lyrical, unputdownable multigenerational tale rooted in family and love."
—Portland Public Library

"Hokeah's debut novel proves the impact of generational resilience—what it means to pass down knowledge, tradition, and values… What sets the novel apart from a collection is that the characters refuse to stand alone, choosing to quilt their stories together. Calling for a Blanket Dance becomes a blanket, and, just like the stitches that bind them, it's the love for community that holds the novel together."
—World Literature Today

"A compelling book about how our family shapes how we are seen and who we become... Honest and powerful, great storytelling."
—The Southern Bookseller Review

"A collective story about familial bonds that readers won't soon forget."
—Tribal College: The Journal of American Indian Higher Education

"A story of love and resiliency that is hard to put down. Calling for a Blanket Dance is a novel sure to remind many readers of their own families, the individuality that each person brings, the crucial role that community plays, and our interconnection."
—Latinx in Publishing

"Generations of struggles, questions, and trauma all come to a head in the person of Ever Geimausaddle, the Native American protagonist of this far-reaching story by Oscar Hokeah. As Ever struggles to figure out his place in the world and what his future looks like, stories from his parents, grandparents, and other members of his community intertwine with his in a tale that reaches far beyond just one man's life."
—LifeSavvy
Welcome!
The Narrow Gauge Book Cooperative is a community-owned, independent bookstore located in Alamosa, Colorado, in the heart of the San Luis Valley. We sell new and used books and a small assortment of local foods and goods.
To learn more about who we are, read our story about how a community came together to save their beloved, historic bookstore.
If you've come to browse our inventory and shop online, you're at the right place!