You are here
Back to top
Dino Dana: Dino Field Guide: Pterosaurs and Other Prehistoric Creatures! (Dinosaurs for Kids, Science Book for Kids, Fossils, Prehistoric) (Hardcover)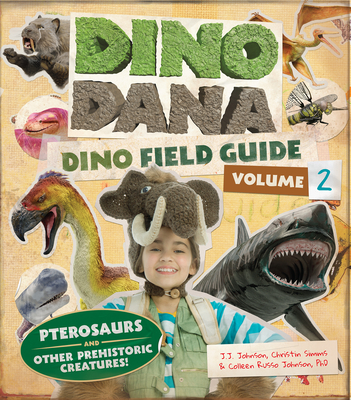 $18.95

Usually Ships in 1-5 Days
Description
---
Dig into Paleontology with Dino Dana
"If your child loves Dino Dana this book is perfect. My son loves watching Dino Dana and this book quickly became his favorite after reading it for the first time. I highly recommend this book for any dino lover " --Amazon Review
#1 New Release in Children's Dinosaur Books and Fossil Books

Following up on the #1 Bestseller comes Dino Dana: Dino Field Guide, Volume 2 - Pterosaurs and Other Prehistoric Creatures. Part paleontology field guide, part encyclopedia for kids, this colorful second volume explores some of the amazing creatures that once flew through the sky, swam in the oceans, and stomped on prehistoric earth.

An introduction to dinosaur fossils for kids. Everyone's favorite Emmy-award winning paleontologist returns─this time, exploring all sorts of prehistoric marine animals, mammals, and insects. With stunning illustrations, fascinating facts, and thought-provoking experiments, this second Dino Dana field guide offers a creative, inside look into the world of paleontology for kids.

For readers of books about dinosaurs for kids. A prehistoric animal encyclopedia for kids like no other, Dino Dana: Dino Field Guide, Volume 2 offers endless facts about dinosaurs, fossils, and prehistoric times. Complete with a photo glossary, size comparisons, and tons of DIY activities, Dino Dana's second volume makes a wonderful addition to any collection of dinosaur books or Dino Dana toys. Inside this interactive dinosaur encyclopedia, kids will learn which dinosaur was:

The first bird
The largest fish to have ever existed
Named after of the whale in Moby Dick
If you're looking for nature books for kids, science books for kids age 9-12, or dinosaur books for kids 8-12─or enjoy the Jurassic World book series, look and find books, or National Geographic Little Kids First Big Book of Dinosaurs─then you'll love Dino Dana: Dino Field Guide, Volume 2 - Pterosaurs and Other Prehistoric Creatures.
Welcome!
The Narrow Gauge Book Cooperative is a community-owned, independent bookstore located in Alamosa, Colorado, in the heart of the San Luis Valley. We sell new and used books and a small assortment of local foods and goods.
To learn more about who we are, read our story about how a community came together to save their beloved, historic bookstore.
If you've come to browse our inventory and shop online, you're at the right place!