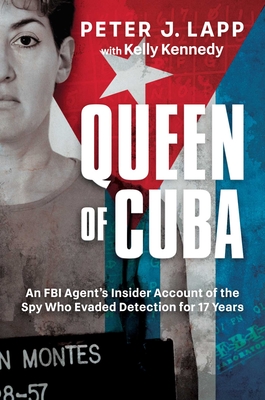 Queen of Cuba: An FBI Agent's Insider Account of the Spy Who Evaded Detection for 17 Years
Publication Date:
November 14th, 2023
Publisher:
Post Hill Press
Usually Ships in 1 to 5 Days
Description
As a spy prepared to give away America's biggest secrets after the 9/11 attacks, an FBI agent raced to catch her.
U.S. government officials knew they had a spy. But it never occurred to them it was a woman—and certainly not a superstar Defense Intelligence Agency employee known as "the Queen of Cuba."
Ana Montes had spent seventeen years spying for the Cubans. She had been raised in a patriotic Puerto Rican household: Her father, a psychiatrist, was a former colonel in the U.S. Army. Her sister worked as a translator for the FBI and helped break up a ring of Cuban spies in Miami. Her brother was also a loyal FBI agent.
Montes impressed her bosses, but in secret, spent her breaks memorizing top secret documents before sending them to the Cuban government. She received no payment, even as one of her missives could have brought her the death penalty.
She also listened to anxiety-relief tapes, took medication, and saw a psychiatrist. She dreamed of a normal life where she could work a job she enjoyed. She dreamed of getting married, and even had a man in mind: a defense analyst on the Cuba account for Southern Command. He had no idea that, three times a week, Montes pulled a short-wave radio from her closet and received encrypted messages from Cuba.
After the 9/11 attacks, Cuba wanted Montes to continue her work. They couldn't know the FBI was already on to her. Retired FBI agent Peter J. Lapp explains the clues—including never-released information—that led their team to catch one of the United States' most dangerous spies.
Praise for Queen of Cuba: An FBI Agent's Insider Account of the Spy Who Evaded Detection for 17 Years
"Lapp's book gives the reader unique insight into the Montes case and will be of great interest to intelligence professionals and amateurs alike.  The story he tells serves as a reminder that, even in the cyber age, a disciplined agent being run by a professional intelligence service using basic tradecraft can wreak great havoc.  I hope today's CI (counterintelligence) professionals are paying attention."
— Mark Kelton, The Cipher Brief
"Move over Robert Hanssen, enter Ana Montes. Pete Lapp's FBI book reads like a post-Cold War version of 'The Americans' – with a Latin twist. At a time when the foreign spy presence in the U.S. is at an all-time high, Lapp's account draws back the curtain on a side of the agency that normally remains in the shadows, and is a reminder that the Bureau's counterintelligence mission is arguably its most important one."
— Asha Rangappa, Former FBI agent and senior lecturer, Yale Jackson School of Global Affairs
"An authentic, first-hand account of a major case of Cuban espionage. One moment, it's deadly serious and then it takes you on a cat-and-mouse chase. Strongly recommended."
— Nigel West, author of Spies Who Changed History and other WWII and espionage titles
"A page-turning suspense story that takes us behind the scenes into the cloak-and-dagger world of a real life espionage case--from the FBI counterintelligence agent who helped catch the Cuban spy inside the DIA (Defense Intelligence Agency)."
— Frank Figliuzzi, former assistant FBI director for counterintelligence, national security commentator on NBC and MSNBC, and author of The FBI Way: Inside the Bureau's Code of Excellence