You are here
Back to top
We Garden Together!: Projects for Kids: Learn, Grow, and Connect with Nature (Hardcover)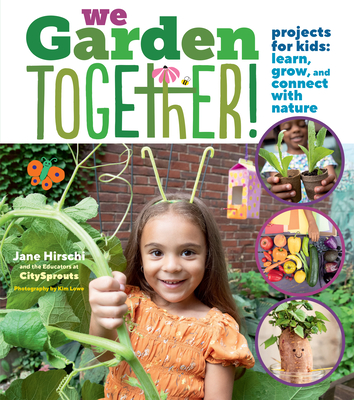 $12.99

Usually Ships in 1-5 Days
Description
---
Kids don't need a big backyard or outdoor space to learn about gardening and how plants grow. This introductory garden book, packed with photos of 3 to 6 year olds in action, features hands-on planting and growing activities that can be done in a small yard, classroom, or community garden. Written by the staff of City Sprouts, a leading educational organization in promoting urban gardening and equitable access to nature, each activity—from Sorting Seeds to Going on a Worm Hunt to Planting a Tasty Salad—encourages kids to roll up their sleeves and learn about seeds, planting, and gardening. Step-by-step photos and on-the-page discovery prompts, presented in a lively design, make it easy and inviting for kids everywhere to become plant lovers and nature explorers. 
 
 
About the Author
---
Jane Hirschi is the founding director of CitySprouts, a nationally recognized program that provides early science and nature education in collaboration with 20 public schools in the greater Boston area. She is passionate about making sure that all children have opportunities for hands-on science education in the garden and the chance to get to know the natural surroundings in their own neighborhood. A regular presenter at conferences regionally and nationally, Hirschi has been recognized as a Social Innovator by Root Cause Social Innovation Forum and is the author of Ripe for Change: Garden-Based Learning in Schools. She lives in Cambridge, Massachusetts.    
CitySprouts cultivates curiosity and wonder with hands-on science learning through urban gardens. For more than 20 years, CitySprouts has partnered closely with public elementary schools in the greater Boston area to provide opportunities for children to learn by exploring the natural world as part of their school journey. CitySprouts is committed to greater equity in science education and children's access to nature no matter where they live. 
Welcome!
The Narrow Gauge Book Cooperative is a community-owned, independent bookstore located in Alamosa, Colorado, in the heart of the San Luis Valley. We sell new and used books and a small assortment of local foods and goods.
To learn more about who we are, read our story about how a community came together to save their beloved, historic bookstore.
If you've come to browse our inventory and shop online, you're at the right place!