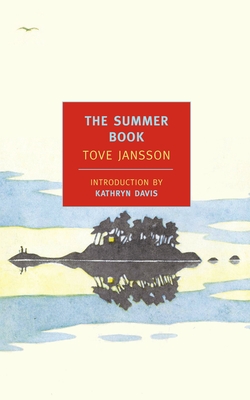 The Summer Book
Publication Date:
May 20th, 2008
Usually Ships in 1 to 5 Days
Description
In The Summer Book Tove Jansson distills the essence of the summer—its sunlight and storms—into twenty-two crystalline vignettes. This brief novel tells the story of Sophia, a six-year-old girl awakening to existence, and Sophia's grandmother, nearing the end of hers, as they spend the summer on a tiny unspoiled island in the Gulf of Finland. The grandmother is unsentimental and wise, if a little cranky; Sophia is impetuous and volatile, but she tends to her grandmother with the care of a new parent. Together they amble over coastline and forest in easy companionship, build boats from bark, create a miniature Venice, write a fanciful study of local bugs. They discuss things that matter to young and old alike: life, death, the nature of God and of love. "On an island," thinks the grandmother, "everything is complete." In The Summer Book, Jansson creates her own complete world, full of the varied joys and sorrows of life.
Tove Jansson, whose Moomintroll comic strip and books brought her international acclaim, lived for much of her life on an island like the one described in The Summer Book, and the work can be enjoyed as her closely observed journal of the sounds, sights, and feel of a summer spent in intimate contact with the natural world. 
The Summer Book is translated from the Swedish by Thomas Teal.
Praise for The Summer Book
"This slim, magical, life-affirming novel tells the story of a young girl and her grandmother, who spend their summer together on a small, isolated island in the Gulf of Finland. Absent of sentimentality, full of love and humor and wisdom, this is a tale about how much fun two people can have in the middle of nowhere, when they are practicing social isolation in earnest." —Elizabeth Gilbert, The New York Times
"I loved it and it's a perfect read for a summer which will, I think, be memorable for many of us as a kind of shadow season, a time carved out from normal life and defined by the absence of normality." —Eve Tushnet, Patheos
"It's deceptively simple, refreshingly unembellished, distilled, grounded in sensory experience, and absolutely direct. It's comforting for precisely the same reasons it's unsettling, like standing on the shore looking across a dark sea at a horizon you swear you could almost touch." —Rain Taxi
"Poetic understatement, dry humor and a deep love for nature are obvious throughout her oeuvre. . .  . The book is as lovely, as evocative as a film by Hayao Miyazaki." —Time Out New York
"Jansson's clear prose—capable of sentiment without being sentimental—contains multitudes. The Summer Book is bright but dense; it is slim enough to read in a day but holds a whole world between its covers." —Powell's Books 
"Tove Jansson was a genius. This is a marvelous, beautiful, wise novel, which is also very funny." —Philip Pullman
"A wise, joyous book . . . it unfolds the knowledge and the beauty of the two lives it embraces–old wisdom and young discover, intertwining like vines." —Rex Reed
"The Summer Book manages to make you feel good as well as wise, without having to make too much effort . . . [it] says so much that we want to hear in such an accessible form, without ever really saying anything at all." —The Independent
"Few books since Robinson Crusoe have evoked the joys of island living so powerfully as this Finnish novella." —The Observer, "Paperback of the Week"
"The Summer Book is a marvellously uplifting read, full of gentle humour and wisdom." —Daily Telegraph (London)
"A marvellous book . . . The prose is sublime: plain, but not oppressively so." —The Independent
"A . . . beautiful novel which blends humour and poetry with detailed observation of tiny things." —Daily Mail
"It's hard to describe the astonishing achievement of Jansson's artistry . . . a perfection of the small, quiet read." —The Guardian, "Book of the Week"
"A wonderful novel to devour in the sunshine . . . full of charm and character." —The Independent, "50 Best Books for Summer"
"Every so often, a book is published that captures something in us . . . The Summer Book is one of those." —Daily Telegraph
"Responses, conversations, and observations yield quietly reflective and funny ruminations on life and death." —The Age
"Thomas Teal, a luminous translator of Jansson's twin talent for surface and depth, simplicity and reverberation in language, and someone who knows exactly how to convey her gift for sensing the meaning embedded in the most mundane act or turn of phrase." —Ali Smith
"This is a wonderful, life-affirming, spirited book. Reading it was a tonic." —Chris Stewart
"Eccentric, funny, wise, full of joys and small adventures. This is a book for life." —Esther Freud
"The Summer Book is beautiful and warm, with the kind of wisdom we can adapt to our everyday lives." —Liv Ullmann
"Take a book in which there is no plot but bucketloads of positive feelings presented simply, and it will become a cult. Zen and the Art of Motorcycle Maintenance and Jonathan Livingston Seagull were both bestsellers; no one could say what either was really about, but everyone could quote a meaningful truism from them. The Summer Book is in this mould: it manages to make you feel good as well as wise." —The Independent
"The Summer Book is pure loveliness. The movements of tides and winds and boats and insects loom larger for our narrator than the currents of history, and the profound quiet of the setting—I'm reminded of Akhil Sharma's description of a prose like 'white light'—allows us to hear Jansson's unsparing and ironic tenderness, a tone that remains purely her own, even in translation."
—Garth Risk Hallberg, The Millions