You are here
Back to top
Safe as Lightning: Poems (Paperback)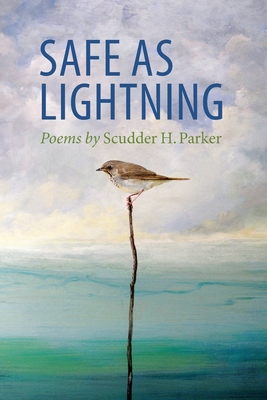 $15.95
Usually Ships in 1-5 Days
Description
---
Independent Publishers of New England (IPNE) Award for Best Poetry
Scudder H. Parker's poetry debut is a compilation of early experience, midlife discovery, and later-life thankfulness. Safe as Lightning is pervaded by sadness about the current direction of our human experiment, and hope for what it might be for us to become respectful citizens living in a thriving and diverse world. A lifetime of observation, experience, and discovery of the amazing richness of the inner, human, and natural worlds; a total delight in the freedom and disciplines of language; a search for justice; and the practice of humility, have all inspired the poems contained within.
About the Author
---
Scudder H. Parker grew up on a family farm in North Danville, Vermont. He's been a Protestant minister, state senator, utility regulator, candidate for Governor, consultant on energy efficiency and renewable energy, and is settling into his ongoing work as a poet. He's a passionate gardener and proud grandfather of four. He and his wife, Susan, live in Middlesex, Vermont. He has published in Sun Magazine, Vermont Life, Northern Woodlands, Wordrunner, Passager, Eclectica, Twyckenham, Crosswinds, Ponder Review, La Presa, Aquifer, and Sky Island Journal. Visit his website at scudderparker.net.
Praise For…
---
"In one of the myriad lovely and cogent poems in Safe as Lightning, Scudder Parker writes:

I used to understand so many things.
Now everything surprises me;
anger shows up on my doorstep

like an orphan.
Sadness is a thread of light
I try to pick off the carpet.

There is nothing
I am qualified to rescue.
I am learning to be patient.

The verse is deft, the observation meticulous, as it is throughout this wonderful collection. To the emotions cataloged in this passage, I would add the whole range of human responses, for the poet encounters and limns each and all. And, though the final stanza above reflects his commendable humility, I take issue with it: Scudder Parker is a conservator: he 'rescues' so much in Safe as Lightning that the reader is challenged to take it all in. He or she must learn to be patient too."

—Sydney Lea, Vermont Poet Laureate 2011-2015 and author of Here

"Anyone reading Scudder's poems knows how special it feels to be home in Vermont. One can read and re-read them and feel the comfort of home."

—U.S. Senator Patrick Leahy

"Scudder Parker writes musically with 'no irritable reaching' toward quotidian beauty. With Buddha-like patience and attention toward such immense particulars as the peonies, corms, and gladiolas in his garden, he testifies to what he calls 'some shy part of me' [that] is always sitting…in sun…on this cold porch…no wisdom, no plan; full of psalms, no notion who I'm singing to.' In poem after poem, Parker divines by receiving, with the result of apprehending the cosmos in the smallest things. 'The poem of the world reveals itself / like a doe's hoof tapping ice till she can drink,' he opines. Such lyrical perspicacity pervades his poems with true antinomies that surprise and enlighten as personal revelations that resonate with gentle, universal appeal."

-Chard deNiord, Vermont Poet Laureate 2015-2019 and author of In My Unknowing
Welcome!
The Narrow Gauge Book Cooperative is a community-owned, independent bookstore located in Alamosa, Colorado, in the heart of the San Luis Valley. We sell new and used books and a small assortment of local foods and goods.
To learn more about who we are, read our story about how a community came together to save their beloved, historic bookstore.
If you've come to browse our inventory and shop online, you're at the right place!