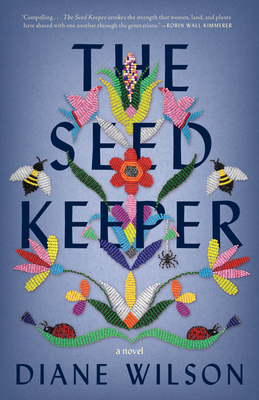 The Seed Keeper
Publication Date:
March 9th, 2021
Publisher:
Milkweed Editions
Usually Ships in 1 to 5 Days
Description
"Compelling . . . The Seed Keeper invokes the strength that women, land, and plants have shared with one another through the generations." -ROBIN WALL KIMMERER
About the Author
Diane Wilson (Dakhóta) is the author of a memoir, Spirit Car: Journey to a Dakota Past, which won a Minnesota Book Award and was selected for the One Minneapolis One Read program, as well as a nonfiction book, Beloved Child: A Dakota Way of Life, which was awarded the Barbara Sudler Award from History Colorado. Her most recent essay, "Seeds for Seven Generations," was featured in the anthology A Good Time for the Truth: Race in Minnesota. Wilson has received a Bush Foundation Fellowship as well as awards from the Minnesota State Arts Board, the Jerome Foundation, and the East Central Regional Arts Council. In 2018, she was awarded a 50 Over 50 Award from Pollen/Midwest. Wilson has served as the executive director for Dream of Wild Health and the Native American Food Sovereignty Alliance, working to help rebuild sovereign food systems for Native people. She is a Mdewakanton descendent, enrolled on the Rosebud Reservation, and lives in Shafer, Minnesota.