You are here
Back to top
The Spectacular: A Novel (Hardcover)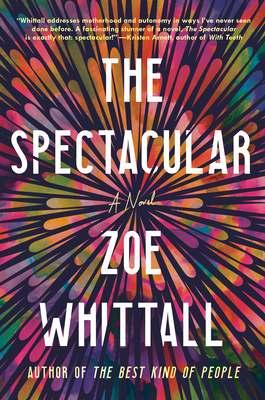 $28.00

Usually Ships in 1-5 Days
Description
---
Three generations of women strive for real freedom in this startling, provocative novel exploring sexuality, gender, and maternal ambivalence, from the acclaimed author of The Best Kind of People.

"Whittall addresses motherhood and autonomy in ways I've never seen done before. A fascinating stunner of a novel, The Spectacular is exactly that: spectacular!"—Kristen Arnett, author of With Teeth

It's 1997 and Missy is a cellist in an indie rock band on tour across America. At twentytwo years old, she gets on stage every night and plays the song about her absent mother that made the band famous. As the only girl in the band, she's determined to party just as hard as everyone else, loving and leaving a guy in every town. But then she meets a tomboy drummer who is hard to forget, and a forgotten flap of cocaine strands her at the border.

Fortysomething Carola is just surfacing from a sex scandal at the yoga center where she has been living when she sees her daughter, Missy, for the first time in ten years—on the cover of a music magazine.

Ruth is eighty-three and planning her return to the Turkish seaside village where she spent her childhood. But when her granddaughter, Missy, winds up crashing at her house, she decides it's time  that the strong and stubborn women in her family find a way to understand one another again.

In this sharply observed novel, Zoe Whittall captures three very different women who each struggle to build an authentic life. Definitions of family, romance, gender, and love will radically change as they seek out lives that are nothing less than spectacular.
About the Author
---
Zoe Whittall is the author of three previous novels, including the Giller-shortlisted The Best Kind of People, the Lambda-winning Holding Still for As Long As Possible, and her debut, Bottle Rocket Hearts. She has published three collections of poetry: The Best Ten Minutes of Your Life, Precordial Thump, and The Emily Valentine Poems. She is also a Canadian Screen Award–winning TV and film writer, with credits on the Baroness von Sketch Show, Schitt's Creek, Degrassi, and others.
Praise For…
---
"Whittall's knockout novel is a multigenerational riot of grrrlhood and womanhood, a brisk and wistful tour through the ambivalence of responsibility."—Oprah Daily
 
"The Spectacular is an homage to womanhood, motherhood, sexuality, and queerness as it chronicles the lives of three ferociously strong protagonists who are wildly different from one another."—Associated Press

"Zoe Whittall's taut novel The Spectacular has all the trappings to become the season's dishiest read. It's also a gem of literary fiction. . . . In Whittall's smart and capable hands, these unconventional women are given the space to experience their full, complicated lives."—BookPage

"An occasionally melancholy often darkly comedic story from a sharply talented writer, The Spectacular is a vibrant homage to living life on your own terms."—PureWow

"Zoe Whittall has this incredible ability to go straight at the honest emotional heart of a story, and yet even with that ferocity, her writing is always graceful, a total joy to read. In the best books, characters feel like my friends, but with the mothers of The Spectacular, they came to feel like my family."—Torrey Peters, author of Detransition, Baby

"This book will leave you with a brilliant roar inside your chest—Whittall's prose is afire with the most complex and daring forms of empathy."—Alissa Nutting, author of Made for Love

"Just imagine this book dog-eared, spine-cracked, pages limp from use, living by your bedside—because from the moment you open The Spectacular, you'll happily succumb to a totally absorbing contemporary epic with characters and social worlds that are Edith Wharton–level dimensional but as relatable as your own uncannily recognizable self."—Jordy Rosenberg, author of Confessions of the Fox

"This is a novel about how we learn to define who we are, about the courage to make decisions nobody will understand, and about the profound complexities of maternal ambivalence. Both expansive and intimate, wild and tender, I loved it."—Ashley Audrain, author of The Push

"A daring and beautiful examination of motherhood, The Spectacular left me breathless."—Robin Wasserman, author of Mother Daughter Widow Wife

"Both raw and refined, The Spectacular is an insightful, poignant exploration of family and relationships from one of my favorite writers working today. A multigenerational story that's fully alive."—Iain Reid, author of I'm Thinking of Ending Things

"Fearless, challenging, epic—these are all words I have been using to describe The Spectacular. Fiction often teaches us truths, and The Spectacular does just that, laying bare the ways in which women are defined and the ways in which women can define themselves."—Jen Sookfong Lee, author of The Conjoined
Welcome!
The Narrow Gauge Book Cooperative is a community-owned, independent bookstore located in Alamosa, Colorado, in the heart of the San Luis Valley. We sell new and used books and a small assortment of local foods and goods.
To learn more about who we are, read our story about how a community came together to save their beloved, historic bookstore.
If you've come to browse our inventory and shop online, you're at the right place!