You are here
Back to top
Fire Weather: A True Story from a Hotter World (Hardcover)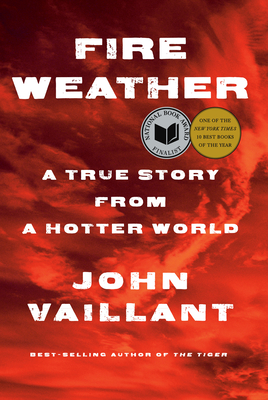 $32.50

Usually Ships in 1-5 Days
Description
---
LONGLISTED FOR THE NATIONAL BOOK AWARD IN NONFICTION • A stunning account of a colossal wildfire that collided with a city, and a panoramic exploration of the rapidly changing relationship between fire and humankind from the award-winning, best-selling author of The Tiger and The Golden Spruce

"Grips like a philosophical thriller, warns like a beacon, and shocks to the core." —Robert Macfarlane, bestselling author of Underland

"Riveting, spellbinding, astounding on every page." —David Wallace-Wells, #1 bestselling author of The Uninhabitable Earth

In May 2016, Fort McMurray, the hub of Canada's oil industry and America's biggest foreign supplier, was overrun by wildfire. The multi-billion-dollar disaster melted vehicles, turned entire neighborhoods into firebombs, and drove 88,000 people from their homes in a single afternoon. Through the lens of this apocalyptic conflagration—the wildfire equivalent of Hurricane Katrina—John Vaillant warns that this was not a unique event, but a shocking preview of what we must prepare for in a hotter, more flammable world.

Fire has been a partner in our evolution for hundreds of millennia, shaping culture, civilization, and, very likely, our brains. Fire has enabled us to cook our food, defend and heat our homes, and power the machines that drive our titanic economy. Yet this volatile energy source has always threatened to elude our control, and in our new age of intensifying climate change, we are seeing its destructive power unleashed in previously unimaginable ways.

With masterly prose and a cinematic eye, Vaillant takes us on a riveting journey through the intertwined histories of North America's oil industry and the birth of climate science, to the unprecedented devastation wrought by modern forest fires, and into lives forever changed by these disasters. John Vaillant's urgent work is a book for—and from—our new century of fire, which has only just begun.
About the Author
---
JOHN VAILLANT's acclaimed, award-winning nonfiction books, The Golden Spruce and The Tiger, were national best sellers. His debut novel, The Jaguar's Children, was a finalist for the Rogers Writers' Trust Fiction Prize and the International Dublin Literary Award. Vaillant has received the Governor General's Literary Award, British Columbia's National Award for Canadian Non-Fiction, the Windham-Campbell Literature Prize, and the Pearson Writers' Trust Prize for Nonfiction. He has written for, among others, The New Yorker, The Atlantic, National Geographic, and The Walrus. He lives in Vancouver.
Praise For…
---
"Fire Weather is a gripping book that brings readers to the front lines of a major forest fire, while also exploring the inter- twined history of oil and gas development and the study of climate change. Its lessons should not be soon forgotten."
—Sarah Boon, Science

"If you've read The Tiger or The Golden Spruce, you already know...Vaillant is an absolute master when it comes to gripping environmental storytelling. His latest book...is no exception. Cinematic and richly written, Fire Weather tackles the science of greenhouse emissions and droughts, the politics of unregulated capitalism, the dangers of oil-sand mining, and how these factors came together in one devastating mega-fire in Alberta." 
—Orion Magazine

"Riveting, spellbinding, astounding on every page. John Vaillant is one of the great poetic chroniclers of the natural world, and here he captures the majesty and horror of one of its great disasters—and what made it tragically possible." 
—David Wallace-Wells, #1 bestselling author of The Uninhabitable Earth

"In John Vaillant's vivid anatomy of the apocalyptic Fort McMurray inferno, the histories of humankind's ever-accelerating consumption of fossil fuel, and of our ever-increasing vulnerability to extreme wildfire, converge with the relentlessness of fate — and the urgency of prophecy." 
—Philip Gourevitch, bestselling author of We Wish to Inform You That Tomorrow We Will Be Killed with Our Families

"A compulsively readable journey into our fiery times.  At the center, Vaillant gives us fire itself as a character—fast, hungry, and evolving to shape the warming decades to come. You might never hear an engine or watch a bonfire the same way again."
—Bathsheba Demuth, author of Floating Coast

"The Fort McMurray fire was a vortex of people, ideas, institutions, forest, oil, city, and wind, the quirky and the existential, all mutating under the wanton impress of the Anthropocene Age.  Fire Weather offers a compelling account of that tragedy, and a reimagining of a pyric infection that threatens to remake the planet."
—Stephen Pyne, author of The Pyrocene

"Fire Weather is a towering achievement: an immense work of research, reflection and imagination that will, I believe, come to be seen as a landmark in non-fiction reportage on the Anthropocene, or what Vaillant here calls 'the Petrocene' -- that epoch defined primarily by humanly enhanced combustion. Fire Weather is extraordinary in terms of its scope and range; it also sings and surprises at the level of the sentence. It grips like a philosophical thriller, warns like a beacon, and shocks to the core." 
—Robert Macfarlane, bestselling author of Underland

"A gripping, richly narrated story that reads like a climate thriller in places, its often fast-paced narrative layered with detailed history and fascinating science....At the center of this epic is Fort McMurray in northern Alberta, Canada, where one of the dirtiest forms of fossil fuel extraction...has left a mammoth scar on the surface of the earth so large it can be seen from outer space. In effulgent prose, Vaillant takes us into the heart of this chthonian place and puts us right there, amid the ash and blackened dust—the Pyrocene's Apocalypse Now....[A] must-read story." 
—Jonathan Hahn, Sierra Club

"Searing...Vaillant concedes that we've made Earth a fire planet. His robust and vivid writing, detailed reporting, and urgent concern for the environment make for sizzling reading."
—Booklist

"A gripping account of the May 2016 fire that engulfed the city of Fort McMurray in the Canadian province of Alberta, destroying thousands of homes and forcing the evacuation of 88,000 people. [Vaillant's] vivid description of the conflagration...is set against the Dantean backdrop of Fort McMurray's oil-sands mining industry, one of the dirtiest outposts of the fossil fuels sector....Vaillant's exploration of this material is rich and illuminating, and his prose punchy and cinematic....The result is an engrossing disaster tale with a potent message."
—Publishers Weekly

"There's a lot of good Elizabeth Kolbert–level popular science writing here along with grittier portraits of the lives of the people who make their living among the tar sands and scrub. Vaillant...asks interesting questions...Perhaps the one most worthy of pondering being a deceptively simple one: 'Is fire alive?' A timely, well-written work of climate change reportage."
—Kirkus
Welcome!
The Narrow Gauge Book Cooperative is a community-owned, independent bookstore located in Alamosa, Colorado, in the heart of the San Luis Valley. We sell new and used books and a small assortment of local foods and goods.
To learn more about who we are, read our story about how a community came together to save their beloved, historic bookstore.
If you've come to browse our inventory and shop online, you're at the right place!