You are here
Back to top
You Don't Have to Be Everything: Poems for Girls Becoming Themselves (Paperback)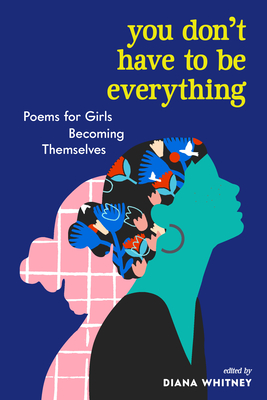 $14.95
Usually Ships in 1-5 Days
Description
---
Poems to Turn to Again and Again – from Amanda Gorman, Sharon Olds, Kate Baer, and More
 
Created and compiled just for young women, You Don't Have to Be Everything is filled with works by a wide range of poets who are honest, unafraid, and skilled at addressing the complex feelings of coming-of-age, from loneliness to joy, longing to solace, attitude to humor. These unintimidating poems offer girls a message of self-acceptance and strength, giving them permission to let go of shame and perfectionism.

The cast of 68 poets is extraordinary: Amanda Gorman, the first National Youth Poet Laureate, who read at Joe Biden's inauguration; bestselling authors like Maya Angelou, Elizabeth Acevedo, Sharon Olds, Naomi Shihab Nye, and Mary Oliver; Instagram-famous poets including Kate Baer, Melody Lee, and Andrea Gibson; poets who are LGBTQ, poets of diverse racial and cultural backgrounds, poets who sing of human experience in ways that are free from conventional ideas of femininity. Illustrated in full color with work by three diverse artists, this book is an inspired gift for daughters and granddaughters—and anyone on the path to becoming themselves.
No matter how old you are,
it helps to be young
when you're coming to life,
to be unfinished, a mysterious statement,
a journey from star to star.
—Joy Ladin, excerpt from "Survival Guide"
About the Author
---
Diana Whitney writes across genres with a focus on feminism, motherhood, and sexuality. Her first book, Wanting It, became an indie bestseller in poetry. Her essays have appeared in the New York Times, Glamour, the Washington Post, and many more. A feminist activist in her Vermont hometown and beyond, Diana works as an editor and a yoga teacher. diana-whitney.com

 
Praise For…
---
 "This is such a beautiful gathering of voices, such a beautiful gathering of poems. If I had had this book when I was younger, it would have enriched my life. But I'm so incredibly grateful I get to read it, and be changed by it, now." — Ross Gay, author of the New York Times bestseller The Book of Delights

"Varied and vibrant...the collection pulses with a vital and confident energy, embracing contradictions and complexity."—Boston Globe

"Each poem addresses a different complex aspect of coming-of-age struggles while confronting persistent views about femininity. You Don't Have to Be Everything provides a safe and guiding poetic space for young women to come into their true selves."—The Root


"This collection feels like a gift, a pep talk, a shoulder to cry on, and, most of all, a mirror that will captivate its audience. A helpful companion for young women navigating a spectrum of complex emotions" — Kirkus Reviews 

"This empowering assemblage of poems by an inclusive group of women writers offers insight and community to readers navigating adolescence... Whitney's introduction offers a message that permeates the volume's entirety: "We are already enough." — Publishers Weekly

"Whitney, a poet, author, and essayist, brings diversity to the forefront, with poems presenting a refreshingly inclusive array of perspectives, including from trans and nonbinary poets..."  — Booklist

"The poems in this gorgeous book glitter like stars, like sequins, like a blade. And they constitute an invitation to our girls to be free—to be whole. How breathtakingly precious that is! How devastatingly rare. I am reminded (again and again) that art is here to save our lives." — Catherine Newman, author of How to Be a Person

"This book is as beautiful to look at as it is to read, and full of important messages that every girl should hear." —  Lisa Selin Davis, author of Tomboy: The Surprising History and Future of Girls Who Dare to be Different

"What company this book would have provided me if I could have had it when I was young!  The poems sing and celebrate, mourn and commiserate, question and assert. The smartly edited collection displays the tremendous vitality and diversity of women poets today and offers a soulful read for "girls becoming themselves" at any age, even my own." —  Beth Ann Fennelly, author of Heating & Cooling: 52 Micro-Memoirs
Welcome!
The Narrow Gauge Book Cooperative is a community-owned, independent bookstore located in Alamosa, Colorado, in the heart of the San Luis Valley. We sell new and used books and a small assortment of local foods and goods.
To learn more about who we are, read our story about how a community came together to save their beloved, historic bookstore.
If you've come to browse our inventory and shop online, you're at the right place!