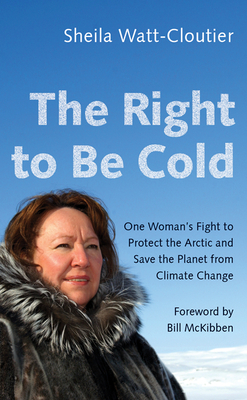 The Right to Be Cold: One Woman's Fight to Protect the Arctic and Save the Planet from Climate Change
Publication Date:
May 1st, 2018
Publisher:
Univ Of Minnesota Press
Usually Ships in 1 to 5 Days
Description
A "courageous and revelatory memoir" (Naomi Klein) chronicling the life of the leading Indigenous climate change, cultural, and human rights advocate
For the first ten years of her life, Sheila Watt-Cloutier traveled only by dog team. Today there are more snow machines than dogs in her native Nunavik, a region that is part of the homeland of the Inuit in Canada. In Inuktitut, the language of Inuit, the elders say that the weather is Uggianaqtuq—behaving in strange and unexpected ways. The Right to Be Cold is Watt-Cloutier's memoir of growing up in the Arctic reaches of Quebec during these unsettling times. It is the story of an Inuk woman finding her place in the world, only to find her native land giving way to the inexorable warming of the planet. She decides to take a stand against its destruction.
The Right to Be Cold is the human story of life on the front lines of climate change, told by a woman who rose from humble beginnings to become one of the most influential Indigenous environmental, cultural, and human rights advocates in the world. Raised by a single mother and grandmother in the small community of Kuujjuaq, Quebec, Watt-Cloutier describes life in the traditional ice-based hunting culture of an Inuit community and reveals how Indigenous life, human rights, and the threat of climate change are inextricably linked. Colonialism intervened in this world and in her life in often violent ways, and she traces her path from Nunavik to Nova Scotia (where she was sent at the age of ten to live with a family that was not her own); to a residential school in Churchill, Manitoba; and back to her hometown to work as an interpreter and student counselor. 
The Right to Be Cold is at once the intimate coming-of-age story of a remarkable woman, a deeply informed look at the life and culture of an Indigenous community reeling from a colonial history and now threatened by climate change, and a stirring account of an activist's powerful efforts to safeguard Inuit culture, the Arctic, and the planet.
Praise for The Right to Be Cold: One Woman's Fight to Protect the Arctic and Save the Planet from Climate Change
"Sheila Watt-Cloutier's personal stories put a cultural face and human voice on climate change, connecting the reader through her passion and heart. She gracefully communicates the ethical imperative that encourages the move from understanding to action. I am indebted to her for making this issue come alive for people through this remarkable book."—Will Steger, polar explorer, author, and founder of Climate Generation: A Will Steger Legacy
"Sheila Watt-Cloutier, a visionary heroine of the climate justice movement, celebrates the beauty and wisdom of traditional Arctic lifeways and chronicles the forces that endanger them. She has elevated the world's understanding of climate change as an issue of human rights and cultural survival. From a childhood in an Arctic village to the world stage and nomination for the Nobel Peace Prize, Watt-Cloutier has been driven by love for her people and planet. The Right to Be Cold reveals the emergence of a formidable leader: Sheila Watt-Cloutier combines traditional wisdom, the tools of science and law, and head and heart and spirit to tell a powerful story we need to hear."—Robin Wall Kimmerer, author of Braiding Sweetgrass: Indigenous Wisdom, Scientific Knowledge, and the Teachings of Plants
"Reading this book—the story of a quiet young woman who rose to lead her people in a desperate battle—should give all of us the inspiration we need, whether it's to go to jail blocking pipelines or to run for Congress battling oil companies. We owe Sheila Watt-Cloutier an immense debt."—Bill McKibben, from the Foreword
"No one writes about the Arctic with more authority than Sheila Watt-Cloutier. Part memoir and part call to arms, The Right to Be Cold is an essential addition to the literature of climate change."—Elizabeth Kolbert, Pulitzer Prize-winning author of The Sixth Extinction: An Unnatural History
"From the persistent woman who made climate change a human rights issue comes a fresh narrative about personal and cultural loss in the Arctic and the courage to seek healing and wholeness to bridge cultures, geographies, and times. The Right to Be Cold captures one Inuk woman's struggle for identity and the courage to adapt while staying grounded in cultural values and bringing hope to the world."—The Honorable Dr. Jane Lubchenco, former U.S. Science Envoy for the Ocean
"In a candid, heartfelt memoir that concentrates on her lifelong activism, Watt-Cloutier shares stories about her upbringing and her development into an adult whose passion is the protection of the indigenous Inuit. Sheila Watt-Cloutier is giving all of humanity a much-needed wake-up call."—Foreword Reviews
"A detailed, compelling portrait of a woman chronicling her dedication to protecting Inuit culture. This memoir will appeal to readers who enjoy books about environmental activism and indigenous cultures."—Library Journal
"The Right to be Cold is an unusual and rather good memoir, from an extraordinary woman with a remarkable story to tell, and a warning to offer."—Make Wealth History
"Watt-Cloutier rose to become one of Canada's most outspoken and decorated environmental and human rights activists. Her biography is a human story of resilience and survival, as well as a testament to Inuit culture as it faces the biggest challenge yet: climate change."—Sense and Sustainability