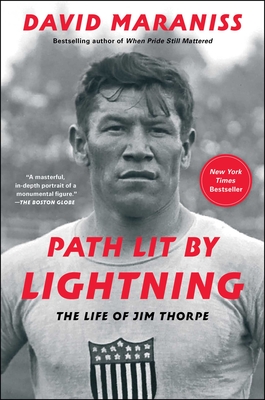 Path Lit by Lightning: The Life of Jim Thorpe
Publication Date:
June 6th, 2023
Publisher:
Simon & Schuster
Usually Ships in 1 to 5 Days
Description
A biography of America's greatest all-around athlete that "goes beyond the myth and into the guts of Thorpe's life, using extensive research, historical nuance, and bittersweet honesty" (Los Angeles Times), by the bestselling author of the classic biography When Pride Still Mattered.
Jim Thorpe rose to world fame as a mythic talent who excelled at every sport. Most famously, he won gold medals in the decathlon and pentathlon at the 1912 Stockholm Olympics. A member of the Sac and Fox Nation, he was an All-American football player at the Carlisle Indian School, the star of the first class of the Pro Football Hall of Fame, and played major league baseball for John McGraw's New York Giants. Even in a golden age of sports celebrities, he was one of a kind.
But despite his awesome talent, Thorpe's life was a struggle against the odds. At Carlisle, he faced the racist assimilationist philosophy "Kill the Indian, Save the Man." His gold medals were unfairly rescinded because he had played minor league baseball, and his supposed allies turned away from him when their own reputations were at risk. His later life was troubled by alcohol, broken marriages, and financial distress. He roamed from state to state and took bit parts in Hollywood, but even the film of his own life failed to improve his fortunes. But for all his travails, Thorpe survived, determined to shape his own destiny, his perseverance becoming another mark of his mythic stature.
Path Lit by Lightning "[reveals] Thorpe as a man in full, whose life was characterized by both soaring triumph and grievous loss" (The Wall Street Journal).
Praise for Path Lit by Lightning: The Life of Jim Thorpe
"A masterful, in-depth portrait of a monumental figure." 
— Louis Moore
"Throughout a book marked by deep research and expert context-setting, [Maraniss] sifts through the myths about Thorpe and Native Americans, depicting his subject as a proud, complicated man who sought to shape his own destiny, yet was bedeviled by larger forces of racism and hypocrisy. . . . Path Lit by Lightning tells his story with skill and integrity."
— Aram Goudsouzian
"In the new biography Path Lit by Lightning, David Maraniss details the enormous odds that a Native American hero had to overcome. . . . He insists that taken as a whole, Jim Thorpe's story is not one of prejudice, nor the hypocrisy of others. . . . [And] emphasizes that whatever life took from him, Thorpe persisted and trained and worked and learned and succeeded."
— Keith Olbermann
"Goes beyond the myth and into the guts of Thorpe's life, using extensive research, historical nuance and bittersweet honesty to tell the story of a gifted and complicated man. . . . Maraniss' biography does justice to the struggles and triumphs of a truly great man."
— Mary Ann Gwinn
"Path Lit by Lightning showcases Mr. Maraniss's abilities as an indefatigable researcher and a deft prose stylist. . . . [Reveals] Thorpe as a man in full, whose life was characterized by both soaring triumph and grievous loss."
— Andrew R. Graybill
"David Maraniss brilliantly rescues Jim Thorpe from myth and prejudice, restoring something more consequential than the Olympic medals stolen from him by small men—his humanity. This is another masterpiece from the master of biography."
— Jane Leavy, author of The Big Fella and Koufax
"In different hands I might be dubious, but David Maraniss revives the titanic Jim Thorpe for a new generation with a surgeon's care, the diligence of a great researcher, and the poignance and humanity that is the signature of his writing. Path Lit By Lightning is a masterful look at this country's first super-athlete, unflinching from what conquest did to his people, from the rousing and bittersweet journey of fame and identity, nor from an American century often far less heroic than the book's protagonist. It's simply brilliant."
— Howard Bryant, author of The Last Hero: A Life of Henry Aaron
"Path Lit by Lightning is a captivating book by a master storyteller.  David Maraniss provides new insights into Jim Thorpe, a man who was not only 'the world's greatest athlete,' but a cultural icon complicated by the dynamics of race and celebrity."
— Patty Loew, (Bad River Ojibwe), professor, Medill School of Journalism, Northwestern University,  and Inaugural Director, Center for Native American and Indigenous Research