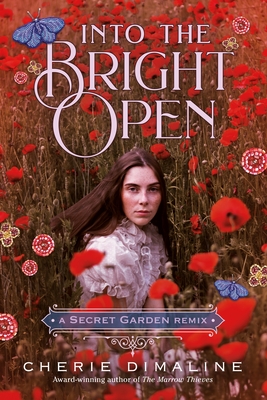 Into the Bright Open: A Secret Garden Remix (Remixed Classics #8)
Publication Date:
September 5th, 2023
Publisher:
Feiwel & Friends
Usually Ships in 1 to 5 Days
Description
In the Remixed Classics series, authors from marginalized backgrounds reinterpret classic works through their own cultural lens to subvert the overwhelming cishet, white, and male canon. This queer YA reimagining of The Secret Garden subverts the cishet and white status quo of the original in a tale of family secrets wonderful and horrifying.

Mary Lennox didn't think about death until the day it knocked politely on her bedroom door and invited itself in. When a terrible accident leaves her orphaned at fifteen, she is sent to the wilderness of the Georgian Bay to live with an uncle she's never met.
At first the impassive, calculating girl believes this new manor will be just like the one she left in Toronto: cold, isolating, and anything but cheerful, where staff is treated as staff and never like family. But as she slowly allows her heart to open like the first blooms of spring, Mary comes to find that this strange place and its strange people—most of whom are Indigenous—may be what she can finally call home.
Then one night Mary discovers Olive, her cousin who has been hidden away in an attic room for years due to a "nervous condition." The girls become fast friends, and Mary wonders why this big-hearted girl is being kept out of sight and fed medicine that only makes her feel sicker. When Olive's domineering stepmother returns to the manor, it soon becomes clear that something sinister is going on.
With the help of a charming, intoxicatingly vivacious Metis girl named Sophie, Mary begins digging further into family secrets both wonderful and horrifying to figure out how to free Olive. And some of the answers may lie within the walls of a hidden, overgrown and long-forgotten garden the girls stumble upon while wandering the wilds...
The Remixed Classics Series
A Clash of Steel: A Treasure Island Remix by C.B. Lee
So Many Beginnings: A Little Women Remix by Bethany C. Morrow
Travelers Along the Way: A Robin Hood Remix by Aminah Mae Safi
What Souls Are Made Of: A Wuthering Heights Remix by Tasha Suri
Self-Made Boys: A Great Gatsby Remix by Anna-Marie McLemore
My Dear Henry: A Jekyll & Hyde Remix by Kalynn Bayron
Teach the Torches to Burn: A Romeo & Juliet Remix by Caleb Roehrig
Into the Bright Open: A Secret Garden Remix by Cherie Dimaline
Most Ardently: A Pride & Prejudice Remix by Gabe Cole Novoa
Praise for Into the Bright Open: A Secret Garden Remix (Remixed Classics #8)
Praise for Into the Bright Open:
"Racism, colonization, and a love of nature are central themes gracefully woven into the story. An aching and emotionally immersive queer romance, unhampered by homophobia, unfolds through lush imagery blended with poignant and elegant prose. A rich and verdant revival of a classic." —Kirkus Reviews, starred review
"Dimaline's adaptation of the classic novel The Secret Garden ages up the protagonist and adds a sinister twist, but it still pays homage to its inspiration. ... Dimaline's subtle, absorbing prose will surely draw readers in and introduce a new generation to the story of a lonely young girl finding her place in the world." —BCCB
"Into the Bright Open subverts many of the racist, heteronormative, and ableist tropes found in The Secret Garden, and its strengths lie in what Dimaline adds to the story—Mary's romance with Sophie, Olive's Métis identity, the white stepmother, and the complex power and racial dynamics that underlie all the relationships in the story. Into the Bright Open is a refreshing remix, but no knowledge of The Secret Garden is required—it stands very well on its own." —Quill and Quire
"The whole entire Remixed Classics line from Macmillan is perfection. Into The Bright Open by Cherie Dimaline is no exception. This queer retelling featuring Indigenous characters is just the spin that one of my favorite classics, The Secret Garden, needs." —In Between Drafts
Praise for Remixed Classics:
"Lee (the Sidekick Squad series) elegantly situates Robert Louis Stevenson's 1882 Treasure Island against a richly embroidered Qing dynasty backdrop in this carefully crafted queer interpretation. ... Inspired by female pirate Zheng Yi Sao, this deeply immersive adventure features deftly interwoven Chinese and Vietnamese, luscious culinary descriptions, and well-rendered explorations of imperialism, treasure, found family, and love." —Publishers Weekly, starred review, on A Clash of Steel: A Treasure Island Remix by C.B. Lee
"'Fun' doesn't even begin to describe this rich and imaginative retelling of Treasure Island. ... It's obvious that this book was a labor of love, which made it all the more enjoyable to read. Pirate stories don't get much better than this." —Hypable, on A Clash of Steel: A Treasure Island Remix by C.B. Lee
"Morrow's ability to take the lingering stain of slavery on American history and use it as a catalyst for unbreakable love and resilience is flawless. That she has remixed a canonical text to do so only further illuminates the need to critically question who holds the pen in telling our nation's story." —Booklist, starred review, on So Many Beginnings: A Little Women Remix by Bethany C. Morrow
"Impressive ... Via delicately written characterizations, each March woman exemplifies the notion that the wounds of bondage don't disappear simply because freedom is at hand, and the racist catalyst of enslavement doesn't disappear with the stroke of a pen, as a beloved story gains new meaning through the lens of enduring Black resilience, love, and hope." —Publishers Weekly, starred review, on So Many Beginnings: A Little Women Remix by Bethany C. Morrow
"Rousing ... Wholly original in its cultural perspective and its centering of strong female characters. ... By creating an almost all-female cast, Safi makes women the heart of her story at a time when they were seen as a 'bargaining chip.'" —Shelf Awareness, starred review
"In Travelers Along the Way, Safi has assembled the perfect team to steal my heart. This is the thoughtful, thought-provoking, and wildly fun retelling of Robin Hood you've been waiting for!" —Kiersten White, New York Times-bestselling author of And I Darken, on Travelers Along the Way: A Robin Hood Remix by Aminah Mae Safi
"A gorgeously reclaimed Gothic. Atmospheric and incisive, What Souls Are Made Of cuts deep into the question of identity and the ghosts of legacy haunting these windswept moors. I'm a Tasha Suri fan for life." —Chloe Gong, New York Times-bestselling author of These Violent Delights, on What Souls Are Made Of: A Wuthering Heights Remix by Tasha Suri
"This remix of Wuthering Heights is an epic piece of historical fiction, and a testament to Suri's incredible storytelling skills." —Buzzfeed, on What Souls Are Made Of: A Wuthering Heights Remix by Tasha Suri
"McLemore's triumphant retelling is for anyone who read The Great Gatsby and thought, this book needs to be much gayer ... In this satisfying, emotional journey that celebrates love, family, friendship, identity, and forging one's own path, McLemore captures the spirit of the original while adding nuance and depth, setting a new bar for what a great retelling can be." —Booklist, starred review, on Self-Made Boys: A Great Gatsby Remix by Anna-Marie McLemore
"Compelling and satisfying for Gatsby fans, critics, and neophytes alike, avoiding and subverting tropes and giving the main quartet the happy endings they deserve. In this absolutely stunning work, McLemore delivers their signature lyrical prose and rich symbolism. ... Richy imagined, fiercely tender, and achingly beautiful. —Kirkus Reviews, starred review, on Self-Made Boys: A Great Gatsby Remix by Anna-Marie McLemore
"Addressing invisibility, power, and passion, Bayron's updated classic simmers with Gothic imagery, romance, and a robust exploration of what it means to be whole. A vibrant retelling." —Kirkus Reviews, on My Dear Henry: A Jekyll & Hyde Remix by Kalynn Bayron
"Part of the exquisite Remixed Classics series, this take on Jekyll & Hyde is more proof that Bayron is a must-read YA author." —Buzzfeed, on My Dear Henry: A Jekyll & Hyde Remix by Kalynn Bayron
"An exquisite reimagining ... Honors the source material while bringing new meaning to Shakespeare's work. Romeo, Valentine, Juliet, and the entirety of Roehrig's cast of characters are true gems, each sparkling with wit, determination, and most of all, love for one another." —Lillie Lainoff, bestselling author of All For One, on Teach the Torches to Burn: A Romeo & Juliet Remix by Caleb Roehrig
Praise for Empire of Wild:

"Deftly written, gripping and informative. Empire of Wild is a rip-roaring read!" —Margaret Atwood, acclaimed author of The Handmaid's Tale
"Inventive, passionate … Smartly written with believable characters, a tight plot, and breathtaking sentences, this is a must-read literary thriller." —Publishers Weekly, starred review
"Close, tight, stark, beautiful … Dimaline has crafted something both current and timeless, mythic but personal." —NPR
"Recalls Neil Gaiman's American Gods in its grittiness and humor as well as its depiction of gods and legendary creatures interfering in the lives of contemporary humans." —Library Journal
Praise for The Marrow Thieves:
Named one of TIME magazine's 100 Best YA Books of All Time
Winner of the 2017 Kirkus Prize for Young Readers
Winner of the 2017 Governor General's Literary Award for Young People's Literature
"Miigwans is a true hero; in him Dimaline creates a character of tremendous emotional depth and tenderness, connecting readers with the complexity and compassion of Indigenous people. A dystopian world that is all too real and that has much to say about our own." —Kirkus Reviews, starred review
"A timely and necessary read ... Powerful and endlessly smart, it's a crucial work of fiction for people of all ages." —Quill & Quire, starred review