You are here
Back to top
I Am Golden (Hardcover)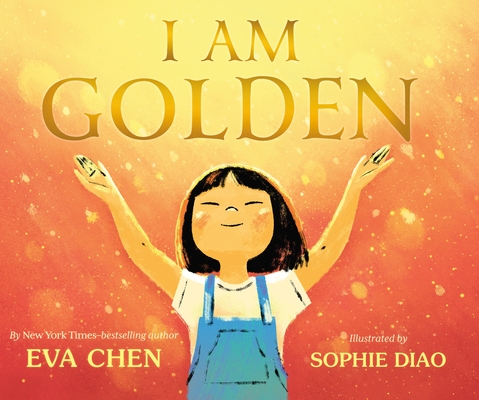 $18.99

Usually Ships in 1-5 Days
March/April 2022 Kids Indie Next List
---
"I am crying at the power and beauty of this book! 'You are made of dragons, of phoenixes, of jade rabbits, and of monkey kings.' Celebrating culture and history as well as individualism! I love a book that connects and empowers so strongly!"
— Tegan Tigani, Queen Anne Book Company, Seattle, WA
Description
---
An Instant New York Times Bestseller!

This joyful and lyrical picture book from New York Times bestselling author Eva Chen and illustrator Sophie Diao is a moving ode to the immigrant experience, as well as a manifesto of self-love for Chinese American children.

What do you see when you look in the mirror, Mei? Do you see beauty?

We see eyes that point toward the sun, that give us the warmth and joy of a thousand rays when you smile. We see hair as inky black and smooth as a peaceful night sky. We see skin brushed with gold.

Praise for I Am Golden:

"[A] richly metaphoric celebration of Chinese American identity ... Luminous, gently textured digital art by Diao includes thoughtful, recognizably Chinese cues that add further dimension ... A loving, affecting tribute to how children of immigrants can serve as bridges and torchbearers for their communities." —Publishers Weekly, starred review

"From the outset, this gorgeous picture book exudes joy and celebration of identity. Through dazzling illustrations, Diao brings to exuberant life best-selling Chinese American author Chen's message of finding love and power in one's differences. ... This powerful and uplifting story captures [Chinese] American joy and is a definite must-read." —Booklist, starred review
About the Author
---
Eva Chen is a first-generation Chinese-American who grew up in New York City. She blames her deviation from pre-med at Johns Hopkins University on a love of fashion and beauty instilled in her by her mother, whose perfect bob and lipstick made a permanent imprint on her impressionable young mind. Previously the editor in chief of Lucky, Eva has also written for ELLE, Vogue, Teen Vogue,Vogue China, the New York Times, and the Wall Street Journal. She is currently the head of fashion partnerships at Instagram, where she is guilty of the occasional duck-face selfie. Eva lives in New York City with her husband and two children. She is the author of Juno Valentine and the Magical Shoes, A Is for Awesome, and Juno Valentine and the Fantastic Fashion Adventure.

Sophie Diao is an artist in San Francisco. As research for the book Sarah and the Big Wave, she surfed a wave that she's pretty sure was over one foot tall. She loves illustrating natural wonders and is the talent behind many a Google Doodle.
Praise For…
---
Praise for I Am Golden:

An Instant New York Times Bestseller!

"In these pages, cultural triumphs live next to snug family dinners, and all of it matters as the parents set their child aloft. Every child should be launched by such words of love and confidence. ... Salve on the wounds of racism, this is a transporting invitation to be different, go forward, and meet your destiny." —School Library Journal, starred review

"[A] richly metaphoric celebration of Chinese American identity ... Luminous, gently textured digital art by Diao includes thoughtful, recognizably Chinese cues that add further dimension ... A loving, affecting tribute to how children of immigrants can serve as bridges and torchbearers for their communities." —Publishers Weekly, starred review

"From the outset, this gorgeous picture book exudes joy and celebration of identity. Through dazzling illustrations, Diao brings to exuberant life best-selling Chinese American author Chen's message of finding love and power in one's differences. ... This powerful and uplifting story captures [Chinese] American joy and is a definite must-read." —Booklist, starred review

"An immigrant couple's empowering love letter to their child. ... Diao's lovely digital artwork works in tandem with Chen's rich textual imagery to celebrate Chinese culture, family history, and language. ... A shining affirmation of Chinese American identity." —Kirkus Reviews, starred review

"Perfectly matched text and illustration ... Every gorgeous spread in Chen and Diao's co-creation maintains this exceptional and precise text and art symbiosis. ... Chen and Diao weave the inherent value of the child throughout, aiming to encourage Asian American children to claim, 'I am golden.'" —Shelf Awareness

"An uplifting story that seeks to teach Asian American children about self-love and validation." —People

"I am crying at the power and beauty of this book ... Celebrating culture and history as well as individualism!" —Tegan Tigani, Queen Anne Book Company (Seattle, WA)

Praise for Colors of Awesome!:

"Vivid and highly engaging ... will dutifully pique the interest of young readers and can serve as an invitation for exploring more about the lives of the thought leaders and changemakers featured here. ... Recommended for picture book collections and collective biography shelves." —School Library Journal

Praise for Roxy the Last Unisaurus Rex:

"Eva Chen has really hit the mark with her Juno Valentine series, but is branching out into children's literature in a huge way with Roxy the Last Unisaurus Rex...It's not often you can find a children's book that pleases both the child and the parent reading it 800 times, but ROXY feels like a good fit. And any picture book that makes me want to wallpaper my house with its pages is more than OK by me." —Romper

Praise for 3 2 1 Awesome!:

"Counting down from 20, this charming board book profiles strong contemporary and historical women ... The choices are solid and represent a diverse range of women and professions." —Booklist

Praise for A Is for Awesome!:

A Publishers Weekly Bestseller!

"That theme of swinging for the fences and going for it is the undercurrent in this book. Even though it's about how they're all awesome, the real undercurrent is, 'Look at all these people who are superheroes who are just like you.' I try to tell that to my daughter." —Hasan Minhaj, in Huffpost

Praise for Juno Valentine and the Magical Shoes:

A New York Times Bestseller!

Featured in Oprah Magazine's Holiday Gift Guide
Recommended by Rachael Ray as the perfect holiday gift
Featured in InStyle's Holiday Gift Guide

"[A] fresh take on a fairy tale." —Forbes.com

"Those who are 3, 13, or 30 can all enjoy the book." —Vogue.com

"Not only does this book pay homage to some of history's greatest women, it also gives them snaps for their fashion sense." —Romper

"Kids need more books like this." —HelloGiggles

"[This book is] not going to drop without a bang." —Refinery29

"[A] charming story." —MyDomaine

"Chen proves that the accessory can actually provide an important teachable moment for young kids." —WhoWhatWear
Welcome!
The Narrow Gauge Book Cooperative is a community-owned, independent bookstore located in Alamosa, Colorado, in the heart of the San Luis Valley. We sell new and used books and a small assortment of local foods and goods.
To learn more about who we are, read our story about how a community came together to save their beloved, historic bookstore.
If you've come to browse our inventory and shop online, you're at the right place!