You are here
Back to top
Hell Bent: A Novel (Alex Stern #2) (Hardcover)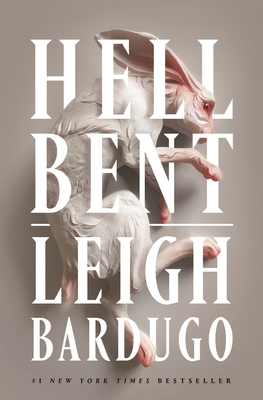 $29.99

Usually Ships in 1-5 Days
January 2023 Indie Next List
---
"Ninth House was a dark, explosive introduction and Hell Bent expands on the world with even more mystery and magic. This book is every bit as addicting as the first. If you need me, I'll be waiting for another installment in the series."
— Becky Martone, R.J. Julia Booksellers, Madison, CT
Description
---
#1 New York Times Bestseller

From the author of Shadow and Bone, now a hit NETFLIX series

"Readers will be wowed." –Publishers Weekly (starred review)

Wealth. Power. Murder. Magic. The Ivy League is going straight to hell in the sequel to the smash New York Times bestseller Ninth House from #1 bestselling author Leigh Bardugo.

"Bardugo's imaginative reach is brilliant." –Stephen King

A MOST ANTICIPATED BOOK OF 2023 by The New York Times, The Week, Kirkus Reviews, PopSugar, Distractify, Booklist Queen, The Nerd Daily, and more!!

Find a gateway to the underworld. Steal a soul out of hell. A simple plan, except people who make this particular journey rarely come back. But Galaxy "Alex" Stern is determined to break Darlington out of purgatory—even if it costs her a future at Lethe and at Yale.

Forbidden from attempting a rescue, Alex and Dawes can't call on the Ninth House for help, so they assemble a team of dubious allies to save the gentleman of Lethe. Together, they will have to navigate a maze of arcane texts and bizarre artifacts to uncover the societies' most closely guarded secrets, and break every rule doing it. But when faculty members begin to die off, Alex knows these aren't just accidents. Something deadly is at work in New Haven, and if she is going to survive, she'll have to reckon with the monsters of her past and a darkness built into the university's very walls.

Thick with history and packed with Bardugo's signature twists, Hell Bent brings to life an intricate world full of magic, violence, and all too real monsters.
About the Author
---
Leigh Bardugo is a #1 New York Times bestselling author and the creator of the Grishaverse (now a Netflix series) which spans the Shadow and Bone trilogy, the Six of Crows duology, The Language of Thorns, and the King of Scars duology—with more to come. Her other works include Wonder Woman: Warbringer and Ninth House (Goodreads Choice Winner for Best Fantasy 2019). She lives in Los Angeles and is an Associate Fellow of Pauli Murray College at Yale University.
Praise For…
---
Praise for Hell Bent

A MOST ANTICIPATED BOOK OF 2023 by The New York Times, The Week, Kirkus Reviews, PopSugar, Distractify, Booklist Queen, The Nerd Daily, and more!!

"A tour de force of suspenseful pacing and empathetic writing... The beauty of Hell Bent is that for all the bleakness, the sense of wonder somehow still remains." —The New York Times

"All hail the queen of dark academia!... Ninth House and Hell Bent may be Bardugo's first books for adults, but you'd never know it, or care, because you're so busy following all of the action... you'll want to capture your copy quickly." —NPR

"[T]he return of protagonist Alex Stern and her mystical version of the Ivy League is very welcome... Watching this damaged loner bring together a squad of ride-and-die friends is endlessly fun, and Bardugo finds new depths to most of her supporting cast." —The Washington Post

"Gut-wrenching and deeply human, this book will tug at your heartstrings even as it chills you to the bone.... Standing head and shoulders above the already impressive Ninth House, Hell Bent is one of the best fantasy novels of the year.." —BookPage (starred reviewed)

"Thrilling ... fascinating supporting players ... The taut plot, often grisly magic, lavish scene-setting, and wry humor combine to make this just as un-put-downable as the first installment. Readers will be wowed." –Publishers Weekly (starred review)

"Bardugo doesn't flinch from the dark sides of magic and human nature….This portrait of a survivor's dogged determination to accomplish her goal will appeal to readers of dark academia, urban fantasy, and horror." —Booklist (starred review)

"Vivid, intelligent, and funny at just the right moments, but best of all are the complex characters." —Kirkus Reviews (starred review)

"Hell Bent is a taut, complexly plotted headrush, stocked full of complicated monsters, entitled academics, and grifters big-time and small." —Book of the Month

"Hell Bent is just as outrageously good as Ninth House, if not better... This mystery runs on vibes, and the vibes are unparalleled." —Chicago Review of Books

"Hell Bent is everything fans of Bardugo's Alex Stern series could have asked for: It's thematically richer, its characters are more complexly rendered, the darkness lurking at the edges of its New England-set world of privilege is more frightening, and its wit more biting." —Paste Magazine

"Although Hell Bent is one of my first reads of 2023, I can confidently see it being a top read of the year by the end of it." —SFF World
Welcome!
The Narrow Gauge Book Cooperative is a community-owned, independent bookstore located in Alamosa, Colorado, in the heart of the San Luis Valley. We sell new and used books and a small assortment of local foods and goods.
To learn more about who we are, read our story about how a community came together to save their beloved, historic bookstore.
If you've come to browse our inventory and shop online, you're at the right place!