You are here
Back to top
Cemetery Boys (Hardcover)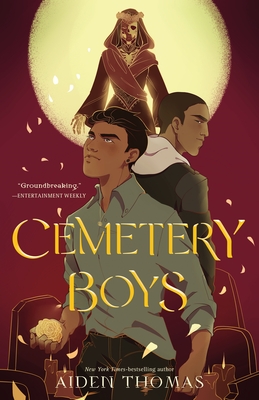 $17.99

Usually Ships in 1-5 Days
Fall 2020 Kids Indie Next List
---
"I couldn't put this book down — I raced through it. Everything about it I loved, from the rich world-building of the brujx community Yadriel is part of, to the diverse cast of characters that included multiple trans and queer Latinx characters. It being written by an Own Voices author only made it that much better!"
— Dany Stark, Rediscovered Books, Boise, ID
Description
---
A trans boy determined to prove his gender to his traditional Latinx family summons a ghost who refuses to leave in Aiden Thomas's New York Times-bestselling paranormal YA debut Cemetery Boys, described by Entertainment Weekly as "groundbreaking."

Yadriel has summoned a ghost, and now he can't get rid of him.

When his traditional Latinx family has problems accepting his true gender, Yadriel becomes determined to prove himself a real brujo. With the help of his cousin and best friend Maritza, he performs the ritual himself, and then sets out to find the ghost of his murdered cousin and set it free.

However, the ghost he summons is actually Julian Diaz, the school's resident bad boy, and Julian is not about to go quietly into death. He's determined to find out what happened and tie off some loose ends before he leaves. Left with no choice, Yadriel agrees to help Julian, so that they can both get what they want. But the longer Yadriel spends with Julian, the less he wants to let him leave.

Praise for Cemetery Boys:
Longlisted for the National Book Award
"The novel perfectly balances the vibrant, energetic Latinx culture while delving into heavy topics like LGBTQ+ acceptance, deportation, colonization, and racism within authoritative establishments." —TeenVogue.com

"This stunning debut novel from Thomas is detailed, heart-rending, and immensely romantic. I was bawling by the end of it, but not from sadness: I just felt so incredibly happy that this queer Latinx adventure will get to be read by other kids. Cemetery Boys is necessary: for trans kids, for queer kids, for those in the Latinx community who need to see themselves on the page. Don't miss this book." —Mark Oshiro, author of Anger is a Gift
About the Author
---
Aiden Thomas is a trans, Latinx, New York Times Bestselling Author with an MFA in Creative Writing from Mills College. Originally from Oakland, California, they now make their home in Portland, OR. Aiden is notorious for not being able to guess the endings of books and movies, and organizes their bookshelves by color. Their books include Cemetery Boys and Lost in the Never Woods.
Praise For…
---
Longlisted for the 2020 National Book Award for Young People's Literature
A YALSA 2021 Best Fiction for Young Adults Top Ten pick

"This stunning debut novel from Thomas is detailed, heart-rending, and immensely romantic. I was bawling by the end of it, but not from sadness: I just felt so incredibly happy that this queer Latinx adventure will get to be read by other kids. Cemetery Boys is necessary: for trans kids, for queer kids, for those in the Latinx community who need to see themselves on the page. Don't miss this book." —Mark Oshiro, author of Anger is a Gift

"Aiden Thomas' debut novel can't help but charm and captivate readers of all ages, though teen readers will invariably identify with and appreciate the high jinks and emotional vulnerability that make each character and scenario deliciously enchanting." — Booklist, starred review

" 'Scooby-Doo' meets 'Love, Simon' in this inclusive supernatural romance steeped in East Los Angeles Latinx culture.... Thomas injects the queer paranormal romance genre with a fresh shot of lavishly detailed Latinx culture, blending in Mayan, Mexican, Central American and South American traditions while commenting on cultural appropriation, deportation and class. Windows into the intersecting Latinx and L.G.B.T.Q. experience are plentiful here, and the opportunities for discovery and discussion are endless." -- New York Times Book Review

"This book is magical, tender, loving, and so so so important. I love it with all my heart." —Mason Deaver, author of I Wish You All The Best

"The novel perfectly balances the vibrant, energetic Latinx culture while delving into heavy topics like LGBTQ+ acceptance, deportation, colonization, and racism within authoritative establishments." —TeenVogue.com

"Cemetery Boys is a celebration of culture and identity that will captivate readers with its richly detailed world, earnest romance, and thrilling supernatural mystery. This delightful debut is a must-read for all paranormal romance fans." —Isabel Sterling, author of These Witches Don't Burn

" Thomas marries concept and execution in a romantic mystery as poignant as it is spellbinding, weaved in a mosaic of culture, acceptance, and identity, where intricately crafted characters are the pieces and love—platonic, romantic, familial, and communal—is the glue." — Publishers Weekly, starred review

"Cemetery Boys is nothing short of an astonishing work of art. Aiden Thomas masterfully weaves a tale of family, friendships, and love in a heartwarming adventure full of affirmation and being your best self." — C.B. Lee, author of Not Your Sidekick

"A gay, transgender brujo with burgeoning powers seeks answers about his cousin's death... Both the romance and mystery burn slow and hot until the climax... Their romance provides joyful, ground-breaking representation for gay, transgender boys. Heart-pounding." —Kirkus

"A story much bigger than the paper that binds it, Cemetery Boys is the tender intricacy we have all been waiting for." —Kayla Ancrum, author of The Wicker King

"Speaking from experience, this is the kind of book that you read and then immediately go force all your friends to read so they can share the pleasure." —Buzzfeed

"A wildly memorable novel." —Paste

"Magical, swoonworthy, and utterly charming." —Bitch Media

"This one is just what your heart needs right now." —TOR.com

"Thomas sensitively navigates Yadriel's struggles as a trans teen, from the insecurity of not wearing his binder at night around Julian, to deadnaming by family members, to the emotional burden of constantly forgiving people who misgender him. In spite of some heavy themes, this is a pleasing ghost-story-turned-romcom ... Readers wary of tragic endings can relax—there's a well-deserved happy ending in store for this ghost boy and brujo." —Bulletin of the Center for Children's Books

"Packed with eerie adventure, tingly romance, and family drama, the novel lays bare the tension between upholding tradition and reaching full self-acceptance. Cheeky, relatable characters bring humor and lightness into Thomas's debut, which also takes on themes of death, loss, abandonment, and rejection." — Horn Book

Welcome!
The Narrow Gauge Book Cooperative is a community-owned, independent bookstore located in Alamosa, Colorado, in the heart of the San Luis Valley. We sell new and used books and a small assortment of local foods and goods.
To learn more about who we are, read our story about how a community came together to save their beloved, historic bookstore.
If you've come to browse our inventory and shop online, you're at the right place!