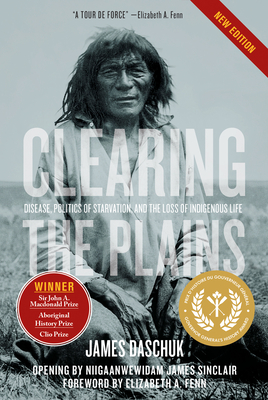 Clearing the Plains: Disease, Politics of Starvation, and the Loss of Indigenous Life
Publication Date:
March 2nd, 2019
Publisher:
University of Regina Press
Usually Ships in 1 to 5 Days
Description
The award-winning book about how Canada's first prime minister starved Indigenous peoples in the pursuit of nationhood
Revealing how Canada's first Prime Minister used a policy of starvation against Indigenous people to clear the way for settlement, the multiple award-winning Clearing the Plains sparked widespread debate about genocide in Canada.
In arresting, but harrowing, prose, James Daschuk examines the roles that Old World diseases, climate, and, most disturbingly, Canadian politics--the politics of ethnocide--played in the deaths and subjugation of thousands of Indigenous people in the realization of Sir John A. Macdonald's National Dream.
It was a dream that came at great expense: the present disparity in health and economic well-being between Indigenous and non-Indigenous populations, and the lingering racism and misunderstanding that permeates the national consciousness to this day.
This new edition of Clearing the Plains has a foreword by Pulitzer Prize winning author, Elizabeth Fenn, an opening by Niigaanwewidam James Sinclair, and explanations of the book's influence by leading Canadian historians. Called "one of the most important books of the twenty-first century" by the Literary Review of Canada, it was named a "Book of the Year" by The Globe and Mail, Quill & Quire, the Writers' Trust, and won the Sir John A. Macdonald Prize, among many others.