You are here
Back to top
The Book of Nature Connection: 70 Sensory Activities for All Ages (Paperback)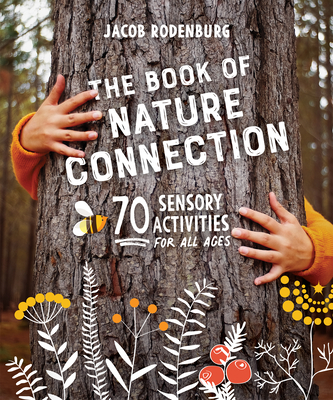 $24.99

Usually Ships in 1-5 Days
Description
---
Unplug from technology and "plug in" to nature through the wonder of your senses.
The Book of Nature Connection is packed with fun activities for using all our senses to engage with nature in a deep and nourishing way.
From "extenda-ears" and acorn whistles to bird calls, camouflage games, and scent scavenger hunts, enjoy over 70 diverse, engaging, sensory activities for all ages that promote mindfulness and nature connection.
With activities grouped by the main senses - hearing, sight, smell, touch, and taste - plus sensory walks and group games, The Book of Nature Connection is both a powerful learning tool kit and the cure for sensory anesthesia brought on by screen time and lives lived indoors.
Whisper in birds, be dazzled by nature's kaleidoscope of colors, taste the freshness of each season, learn to savor the scented world of evergreens, hug a tree and feel the bark against your cheek. Spending time in nature with all senses tuned and primed helps us feel like we belong to the natural world - and in belonging, we come to feel more connected, nourished, and alive.
Ideal for educators, camp and youth leaders, caregivers and parents, and anyone looking to reconnect and become a nature sommelier
AWARDS
GOLD 2023 Nautilus Book Awards Special Honors: Educational Guidebooks
SILVER 2023 IPPY Awards: Nature
SILVER 35th IBPA Benjamin Franklin Book Awards: Nature & Environment
About the Author
---
Jacob Rodenburg, nature sommelier, is an award-winning educator who believes in the importance of connecting children to nature. He is the executive director of Camp Kawartha, a summer camp and outdoor education center, and an instructor in environmental education at Trent University. An educator of three decades, Jacob has published articles on children, nature, and the environment; has taught more than 100,000 students; and is co-author of The Big Book of Nature Activities. He lives in Peterborough, Ontario.
Welcome!
The Narrow Gauge Book Cooperative is a community-owned, independent bookstore located in Alamosa, Colorado, in the heart of the San Luis Valley. We sell new and used books and a small assortment of local foods and goods.
To learn more about who we are, read our story about how a community came together to save their beloved, historic bookstore.
If you've come to browse our inventory and shop online, you're at the right place!