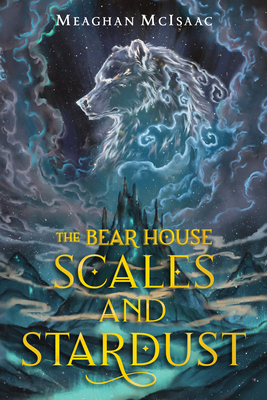 The Bear House: Scales and Stardust
Publication Date:
November 14th, 2023
Usually Ships in 1 to 5 Days
Description
Return to the gritty medieval world of the Bear Highen in this thrilling high fantasy follow-up to The Bear House.
The war in the Bear Highen is over. Aster, at thirteen, has defeated her uncle and become the High Queen. Peace is good, but things are still difficult: political challenges confront her, personal challenges stymie her, and the massive Hemoth Bear, symbol of the House of the Bear, is beginning to resist her control.
When, during a royal hunt, Aster stumbles on a young girl living in a nest of wyverns, matters become even more complex. Because this girl is not a girl at all. She is a living star, come down from her constellation, on a mission both terrible and glorious. And there is no shortage of those who want to use her cosmic powers for their own ends—rival kings, rival friends, and even three deadly sisters from the plane of demons, one of whom has an offer for Aster she may find it difficult to refuse....
A Junior Library Guild Gold Standard Selection
About the Author
Meaghan McIsaac is the author of several books for young readers, including The Boys of Fire and Ash, which was shortlisted for the Manitoba Young Readers' Choice Award; and Movers, which was a Shining Willow Finalist for the Saskatchewan Young Readers' Choice Awards. Meaghan lives in Toronto, Ontario with her two dogs.
Praise for The Bear House: Scales and Stardust
"A cinematic finale. . . . the rich worldbuilding continues to shine."—Kirkus Reviews