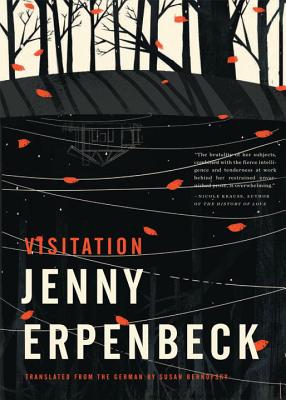 Visitation
Publication Date:
September 30th, 2010
Publisher:
New Directions
Usually Ships in 1 to 5 Days
A spare, exquisite gem of a novel, Jenny Erpenbeck's Visitation stopped me cold. The story follows the life of one house on the banks of a Bradenburg lake, outside of Berlin, and the inhabitants who reside there over the course of one hundred years. A fierce and wildly intelligent look at how we live our lives, both in respite and in duress, which things have meaning, and what we need to call a place a home. Visitation is a biography of a place, a story of displacement and irreparable loss, and an intimate and deeply personal exploration of the private places we cultivate to house our souls. This book will change you.
November 2010 Indie Next List
A brilliantly devastating look at the 20th century, the inevitability of mortality, and the tragedy of wastefulness inherent in the march of time, told as much by the people who lived through it as the place they existed in. A short, beautiful, and heartbreaking masterpiece that could only be the vision of one of our most thoughtful and intricately humane authors.
Summer 2019 Reading Group Indie Next List
Description
A bestseller in Germany, Visitation has established Jenny Erpenbeck as one of Europe's most significant contemporary authors.
A forested property on a Brandenburg lake outside Berlin lies at the heart of this darkly sensual, elegiac novel. Encompassing over one hundred years of German history, from the nineteenth century to the Weimar Republic, from World War II to the Socialist German Democratic Republic, and finally reunification and its aftermath, Visitation offers the life stories of twelve individuals who seek to make their home in this one magical little house. The novel breaks into the everyday life of the house and shimmers through it, while relating the passions and fates of its inhabitants. Elegant and poetic, Visitation forms a literary mosaic of the last century, tearing open wounds and offering moments of reconciliation, with its drama and its exquisite evocation of a landscape no political upheaval can truly change.
Praise for Visitation
Love, death and passion, from the Weimar Republic to the Fall of the
Berlin Wall. Wonderful German prose.
— Playboy
Jenny Erpenbeck's writing is a lure that leads us—off-centre, as one travels into a vortex—into the most haunted and haunting territory. This is a novel of profound clarity and precise grief.
— Anne Michaels, Author of Fugitive Pieces
The brutality of her subjects, combined with the fierce intelligence
and tenderness at work behind her restrained unvarnished prose, is
overwhelming.
— Nicole Krauss, author of The History of Love
Jenny Erpenbeck is the rising star of the German literary scene.
— Cosmopolitan
Erpenbeck will get under your skin.
— Washington Post Book World
Bernofsky's translation vividly captures the rhythm of Erpenbeck's original and allows us to experience this stunning parable of change and brevity in all its beauty and wonder.
— Jewish Book World
Erpenbeck's voice is fresh and independent and very convincing.
— Frederike Knabe - Mostly Fiction
Visitation adds to her compact scenarios something intangible and enormous, which works on them from outside their modest frames with a force eroding human history and its claims to establish durable meaning.
— The Nation