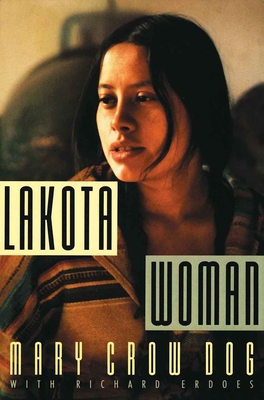 Lakota Woman
Publication Date:
June 14th, 2011
Usually Ships in 1 to 5 Days
Description
Mary Brave Bird grew up fatherless in a one-room cabin, without running water or electricity, on the Rosebud Indian Reservation in South Dakota. Rebelling against the aimless drinking, punishing missionary school, narrow strictures for women, and violence and hopeless of reservation life, she joined the new movement of tribal pride sweeping Native American communities in the sixties and seventies. Mary eventually married Leonard Crow Dog, the American Indian Movement's chief medicine man, who revived the sacred but outlawed Ghost Dance.
Originally published in 1990, Lakota Woman was a national best seller and winner of the American Book Award. It is a unique document, unparalleled in American Indian literature, a story of death, of determination against all odds, of the cruelties perpetuated against American Indians, and of the Native American struggle for rights. Working with Richard Erdoes, one of the twentieth century's leading writers on Native American affairs, Brave Bird recounts her difficult upbringing and the path of her fascinating life.
Praise for Lakota Woman
Praise for Lakota Woman
Inspirational.The Midwest Book Review
A gritty, convincing document of one womans struggle to overcome poverty and oppression in order to live in dignity as an American Indian.Kirkus Reviews
Lakota Woman is a view from the inside.San Francisco Chronicle
A powerful autobiography feisty and determined, warm and even funny, sometimes given to outbursts of rage or sorrow or enthusiasm, always unpretentious and straightforward. Chicago Tribune
Stunningly honest . The courage, nobility, morality, and humor that fill the pages of this book should be required reading. David Amram
The moving story of a Native American woman who fought her way out of despair and bitterness to find the righteous ways of her ancestors.William M. Kunstler
A piercing look into the ancient yet modern mind of a Sioux woman. Oliver Stone
Her searing autobiography is courageous, impassioned, poetic, and inspirational. Publishers Weekly