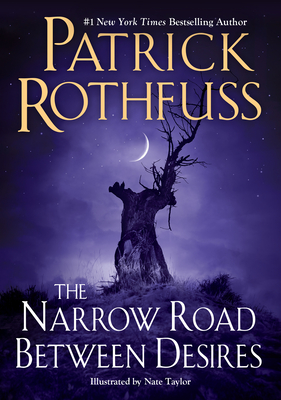 The Narrow Road Between Desires (Kingkiller Chronicle)
Publication Date:
November 14th, 2023
Usually Ships in 1 to 5 Days
Description
An instant New York Times, USA Today and Indie Bestseller!
#1 New York Times-bestselling phenomenon Patrick Rothfuss returns to the wildly popular Kingkiller Chronicle universe with a stunning reimagining of "The Lightning Tree." Expanded to twice its previous length and lavishly illustrated by Nate Taylor, this touching stand-alone story is sure to please new readers and veteran Rothfuss fans alike.
Bast knows how to bargain. The give-and-take of a negotiation is as familiar to him as the in-and-out of breathing; to watch him trade is to watch an artist at work. But even a master's brush can slip. When he accepts a gift, taking something for nothing, Bast's whole world is knocked askew, for he knows how to bargain—but not how to owe. 
From dawn to midnight over the course of a single day, follow the Kingkiller Chronicle's most charming fae as he schemes and sneaks, dancing into trouble and back out again with uncanny grace.
The Narrow Road Between Desires is Bast's story. In it he traces the old ways of making and breaking, following his heart even when doing so goes against his better judgement.
After all, what good is caution if it keeps him from danger and delight?
Praise for The Narrow Road Between Desires (Kingkiller Chronicle)
Praise for The Narrow Road Between Desires

"[Rothfuss] clearly has a heart for stories . . . His prose is the sort that forces you to stop cold and just savor the words." —Eric Pierce, Fanfare
"The Narrow Road Between Desires is a fascinating book . . . When I think about this book, the word I keep coming back to is 'beautiful' . . . Between the art and the additions to the prose, which roughly double the size of The Narrow Road Between Desires from The Lightning Tree, there's no doubt that this is the ideal way to experience this story." —Daniel Roman, Winter is Coming
Praise for The Kingkiller Chronicle
"The best epic fantasy I read last year.... He's bloody good, this Rothfuss guy." —George R. R. Martin, New York Times-bestselling author of A Song of Ice and Fire
 
"Rothfuss has real talent, and his tale of Kvothe is deep and intricate and wondrous." —Terry Brooks, New York Times-bestselling author of Shannara
 
"It is a rare and great pleasure to find a fantasist writing...with true music in the words." —Ursula K. LeGuin, award-winning author of Earthsea
 
"The characters are real and the magic is true." —Robin Hobb, New York Times-bestselling author of Assassin's Apprentice
 
"Masterful.... There is a beauty to Pat's writing that defies description." —Brandon Sanderson, New York Times-bestselling author of Mistborn
 
"[Makes] you think he's inventing the genre, instead of reinventing it." —Lev Grossman, New York Times-bestselling author of The Magicians
 
"This is a magnificent book." —Anne McCaffrey, award-winning author of the Dragonriders of Pern
 
"The great new fantasy writer we've been waiting for, and this is an astonishing book." —Orson Scott Card, New York Times-bestselling author of Ender's Game

"It's not the fantasy trappings (as wonderful as they are) that make this novel so good, but what the author has to say about true, common things, about ambition and failure, art, love, and loss." —Tad Williams, New York Times-bestselling author of Memory, Sorrow, and Thorn
 
"An extremely immersive story set in a flawlessly constructed world and told extremely well." —Jo Walton, award-winning author of Among Others
 
"Hail Patrick Rothfuss! A new giant is striding the land." —Robert J. Sawyer, award-winning author of Wake
 
"Fans of the epic high fantasies of George R.R. Martin or J.R.R. Tolkien will definitely want to check out Patrick Rothfuss' The Name of the Wind." —NPR
 
"Shelve The Name of the Wind beside The Lord of the Rings...and look forward to the day when it's mentioned in the same breath, perhaps as first among equals." —The A.V. Club
 
"Rothfuss (who has already been compared to the likes of Terry Goodkind, Robert Jordan, and George R. R. Martin) is poised to be crowned the new king of epic fantasy." —Barnes & Noble
 
"I was reminded of Ursula K. Le Guin, George R. R. Martin, and J. R. R. Tolkien, but never felt that Rothfuss was imitating anyone." —The London Times
 
"This fast-moving, vivid, and unpretentious debut roots its coming-of-age fantasy in convincing mythology." —Entertainment Weekly
 
"This breathtakingly epic story is heartrending in its intimacy and masterful in its narrative essence." —Publishers Weekly (starred)
 
"Reminiscent in scope of Robert Jordan's Wheel of Time series...this masterpiece of storytelling will appeal to lovers of fantasy on a grand scale." —Library Journal (starred)