You are here
Back to top
Speak (CD-Audio)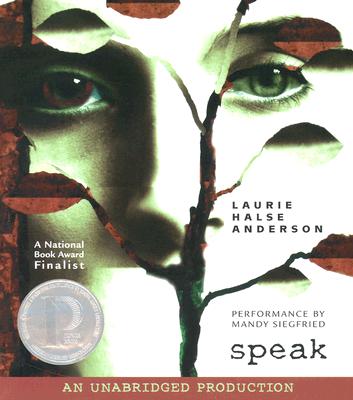 $30.00
Title is out of stock through distributor, email for more information.
Description
---
From her first moment at Merryweather High, Melinda Sordino knows she's an outcast. She busted an end-of-summer party by calling the cops — a major infraction in high-school society — so her old friends won't talk to her, and people she doesn't know glare at her. She retreats into her head, where the lies and hypocrisies of high school stand in stark relief to her own silence, making her all the more mute. But it's not so comfortable in her head, either — there's something banging around in there that she doesn't want to think about. Try as she might to avoid it, it won't go away, until there is a painful confrontation. Once that happens, she can't be silent — she must speak the truth.
In this powerful audiobook, an utterly believable, bitterly ironic heroine speaks for many a disenfranchised teenager while learning that, although it's hard to speak up for yourself, keeping your mouth shut is worse.
About the Author
---
Laurie Halse Anderson grew up in Syracuse, New York, and now lives in Pennsylvania with her husband and two daughters. Her first novel, Speak, a Printz Honor and National Book Award finalist, is available on audio from Listening Library
Welcome!
The Narrow Gauge Book Cooperative is a community-owned, independent bookstore located in Alamosa, Colorado, in the heart of the San Luis Valley. We sell new and used books and a small assortment of local foods and goods.
To learn more about who we are, read our story about how a community came together to save their beloved, historic bookstore.
If you've come to browse our inventory and shop online, you're at the right place!