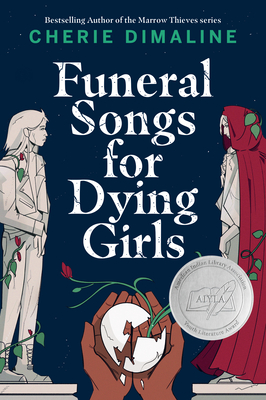 Funeral Songs for Dying Girls
Publication Date:
April 4th, 2023
Usually Ships in 1 to 5 Days
Description
After inadvertently starting rumors of a haunted cemetery, a teen befriends a ghost in this brand-new young adult novel exploring grief and belonging by the critically acclaimed and bestselling author of The Marrow Thieves series.
Winifred has lived in the apartment above the cemetery office with her father, who works in the crematorium, all her life, close to her mother's grave. With her sixteenth birthday only days away, Winifred has settled into a lazy summer schedule, lugging her obese Chihuahua around the grounds in a squeaky red wagon to visit the neglected gravesides and nursing a serious crush on her best friend, Jack.
Her habit of wandering the graveyard at all hours has started a rumor that Winterson Cemetery might be haunted. It's welcome news since the crematorium is on the verge of closure and her father's job is being outsourced. Now that the ghost tours have started, Winifred just might be able to save her father's job and the only home she's ever known, not to mention being able to stay close to where her mother is buried. All she has to do is get help from her con-artist cousin to keep up the rouse and somehow manage to stop her father from believing his wife has returned from the grave. But when Phil, an actual ghost of a teen girl who lived and died in the ravine next to the cemetery, starts showing up, Winifred begins to question everything she believes about life, love and death. Especially love.
Praise for Funeral Songs for Dying Girls
A BookPage Most Anticipated YA Book of 2023
"Winifred is an engaging lead with an emotional and fulfilling journey. Artfully melding horror, deadpan humor, and an impossible romance, this well-crafted narrative from Dimaline follows lived-in characters who are tortured by grief. Atmospheric, intimate, and melodic; the rich storytelling sings." —STARRED REVIEW, Kirkus Reviews
"[A] story of healing. Dimaline has created a rich world of complex characters with a narrative that oscillates from love story to suspense-thriller — sometimes within the same chapter — without any tonal whiplash. Funeral Songs for Dying Girls is a complex exploration of grief, family, and love that will appeal to teens and adults alike." —STARRED REVIEW, Quill & Quire

"Contemplative prose excels in its portrayal of a reclusive protagonist longing for connection and overcoming grief while living in a neighborhood that shuns her for perceived shortcomings, presenting a textured narrative about loss and love." —Publishers Weekly
"This lyrical ghost story portrays how a bond between two girls — one living, one not — transforms the grief that roots them both in place. . . . Wrenching and poignant, Funeral Songs for Dying Girls is a haunting tale about what it means to search for home — not the place, but the feeling you carry with you." —BookPage
"Dimaline's intense, bittersweet, and often funny novel is more than a ghost story. Extended portions about the life and death of Phil, a sympathetically rendered ghost character who becomes one of Winifred's first loves, allude to the real-life neglected epidemic of MMIWG2S (Missing and Murdered Indigenous Women, Girls, and Two-Spirit People). Through this novel, Dimaline honors those lost." —The Horn Book
"With beautiful, biting prose, Dimaline's tale of loss and love will challenge its readers to consider how the past can haunt the present if we let it." —CM: Canadian Review of Materials
"Winifred's narration is startling in its honesty . . . and the result is a deep intimacy that is warm but melancholy." —Bulletin of the Center for Children's Books
"[A] literary journey that explores grief, identity, family, and isolation through the lens of a lonely and independent 16-year-old girl. . . . Dimaline's writing is lyrical and haunting." —Pine Reads Review