You are here
Back to top
La casa en mango street / The House on Mango Street (Paperback)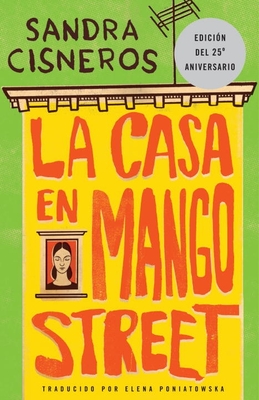 $11.95

Usually Ships in 1-5 Days
Description
---
TIMES 2020, los 100 mejores libros juveniles de todos los tiempos

Elogiado por la crítica, admirado por lectores de todas las edades, en escuelas y universidades de todo el país y traducido a una multitud de idiomas, La casa en Mango Street es la extraordinaria historia de Esperanza Cordero. Contado a través de una serie de viñetas —a veces desgarradoras, a veces profundamente alegres— es el relato de una niña latina que crece en un barrio de Chicago, inventando por sí misma en qué y en quién se convertirá. Pocos libros de nuestra era han conmovido a tantos lectores.

ENGLISH DESCRIPTION

TIMES 2020 100 Best YA of All Times

Acclaimed by critics, beloved by readers of all ages, taught everywhere from inner-city grade schools to universities across the country, and translated all over the world, The House on Mango Street is the remarkable story of Esperanza Cordero.

Told in a series of vignettes – sometimes heartbreaking, sometimes deeply joyous – it is the story of a young Latina girl growing up in Chicago, inventing for herself who and what she will become. Few other books in our time have touched so many readers.
About the Author
---
Sandra Cisneros es una poeta, cuentista, novelista y ensayista cuyo trabajo explora las vidas de la clase obrera. Sus numerosos premios incluyen becas NEA tanto en poesía como en ficción, la Medalla de las Artes de Texas, la beca MacArthur, varios doctorados honorarios y premios nacionales e internacionales como el Fifth Star Award de Chicago, el PEN Center USA Literary Award y la Medalla Nacional de las Artes que el presidente Obama le otorgó en 2016. También obtuvo la beca Art of Change de la Fundación Ford y fue reconocida entre la lista The Frederick Douglass 200. En 2018, recibió el premio de literatura internacional PEN/Nabokov.
 
Su obra clásica, La casa en Mango Street, ha vendido más de seis millones de ejemplares, ha sido traducida a más de veinte idiomas y es lectura obligatoria en escuelas primarias, secundarias y universidades en todo el país.
 
Además de su obra literaria Cisneros ha fomentado las carreras de muchos escritores aspirantes y emergentes a través de sus dos organizaciones sin fines de lucro: la Fundación Macondo y la Fundación Alfredo Cisneros del Moral. También es la organizadora de Los MacArturos, el grupo de becarios latinos de la beca MacArthur que son activistas en sus comunidades. Sus trabajos literarios se conservan en Texas en las Wittliff Collections y en Texas State University.
 
Sandra Cisneros es ciudadana de los Estados Unidos y de México, y vive de su trabajo como escritora. Actualmente vive en San Miguel de Allende, Mexico.


Praise For…
---
"La Casa en Mango Street ha dado voz a todos los que hemos hecho de Estados Unidos nuestra casa, pero sin olvidar de donde venimos… un libro inolvidable e indispensable".
—Jorge Ramos

"Un clásico… Una de las raíces principales del gran florecimiento de la literatura hispana en Estados Unidos. Esta pequeña obra se ha labrado a sí misma un gran espacio en la estantería de la literatura de Estados Unidos".
—Julia Álvarez

"Cisneros ha sabido explotar su rica herencia [hispana]… y nos seduce con su prosa sobria y precisa, y con la creación de personajes inolvidables que querríamos hurtar a sus páginas. Cisneros no sólo es una escritora talentosa sino absolutamente esencial".
—The New York Times Book Review

"Profundamente conmovedora...encantadora y tierna.... Como la mejor poesía, abre las ventanas del corazón sin una palabra malgastada."
—Miami Herald

"Sandra Cisneros sabe que el corazón se puede romper, y que también puede alzarse y volar como un pájaro. Cualquier historia que ella decida relatarnos, debamos de seguir escuchándola por mucho tiempo."
—Washington Post Book World

"Poética y perspicaz...la prosa fragmentada de Cisneros evoca los sueños y las memorias de sus personajes —y es testigo de su extraordinario talento."
—Los Angeles Times Book Review
Welcome!
The Narrow Gauge Book Cooperative is a community-owned, independent bookstore located in Alamosa, Colorado, in the heart of the San Luis Valley. We sell new and used books and a small assortment of local foods and goods.
To learn more about who we are, read our story about how a community came together to save their beloved, historic bookstore.
If you've come to browse our inventory and shop online, you're at the right place!