You are here
Back to top
The Wind Knows My Name: A Novel (Hardcover)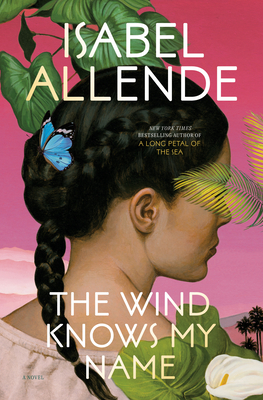 $28.00

Usually Ships in 1-5 Days
Description
---
NATIONAL BESTSELLER • "The lives of a Jewish boy escaping Nazi-occupied Europe and a mother and daughter fleeing twenty-first-century El Salvador intersect in this ambitious, intricate novel about war and immigration" (People), from the author of A Long Petal of the Sea and Violeta

"Timely, provocative . . . emotionally satisfying . . . [a story about] the kindness of strangers who become family."—The New York Times Book Review

Vienna, 1938. Samuel Adler is five years old when his father disappears during Kristallnacht—the night his family loses everything. As her child's safety becomes ever harder to guarantee, Samuel's mother secures a spot for him on a Kindertransport train out of Nazi-occupied Austria to England. He boards alone, carrying nothing but a change of clothes and his violin.

Arizona, 2019. Eight decades later, Anita Díaz and her mother board another train, fleeing looming danger in El Salvador and seeking refuge in the United States. But their arrival coincides with the new family separation policy, and seven-year-old Anita finds herself alone at a camp in Nogales. She escapes her tenuous reality through her trips to Azabahar, a magical world of the imagination. Meanwhile, Selena Durán, a young social worker, enlists the help of a successful lawyer in hopes of tracking down Anita's mother.

Intertwining past and present, The Wind Knows My Name tells the tale of these two unforgettable characters, both in search of family and home. It is both a testament to the sacrifices that parents make and a love letter to the children who survive the most unfathomable dangers—and never stop dreaming.
About the Author
---
Born in Peru and raised in Chile, Isabel Allende is the author of a number of bestselling and critically acclaimed books, including Violeta, A Long Petal of the Sea, The House of the Spirits, Of Love and Shadows, Eva Luna, and Paula. Her books have been translated into more than forty-two languages and have sold more than seventy-four million copies worldwide. She lives in California.
Praise For…
---
"Allende's artistry shapes a lyrical romanticism around social political history and global turmoil . . . [Her dialogue is] current, relevant and real. Our civic discourse is centered by a multitude of voices talking about two things—immigration and identity—who belongs and who doesn't, and how to care for the dispossessed. In Allende's version healing is possible, because empathy is a hopeful, albeit inconsistent, follower of migration."—NPR

"The lives of a Jewish boy escaping Nazi-occupied Europe and a mother and daughter fleeing 21st-century El Salvador intersect in this ambitious, intricate novel about war and immigration. A historical saga that is deeply connected to our present day."—People
 
"This beloved author transports us to two dark periods in history: Nazi-overrun Vienna in 1938 and the current dire situation at the border between the United States and Mexico. . . . Both stories are rich enough to carry the weight of one novel, but Allende expertly intertwines them. Employing her signature touch of magical realism, she wraps us in a compassionate story that reminds us 'we could all just as easily find ourselves in similar situations.'"—The Washington Post

"[Allende is] the queen of magic realism."—BBC

"It feels something like a modern version of The Secret Garden: lost, grieving people finding joy and hope with each other, with a touch of magic. Beautiful and moving . . . draws parallels between humanitarian crises in different times and places in a way that feels deeply personal."—Book Riot

"The Wind Knows My Name is a treat for fans of Kristin Hannah, Christina Baker Kline, and Julia Alvarez, all authors who understand that history always affects current events."—Virtuoso, The Magazine

"Allende is always a must read and readers will queue for her latest mix of history, suspense, emotional insight, social commentary, mysticism, wit, and tenderness."—Booklist

"Powerful . . . Allende finds real depth in her characters, especially when portraying their sacrifices. This authentic and emotionally harrowing work is a triumphant return to form."—Publishers Weekly (starred review)
Welcome!
The Narrow Gauge Book Cooperative is a community-owned, independent bookstore located in Alamosa, Colorado, in the heart of the San Luis Valley. We sell new and used books and a small assortment of local foods and goods.
To learn more about who we are, read our story about how a community came together to save their beloved, historic bookstore.
If you've come to browse our inventory and shop online, you're at the right place!