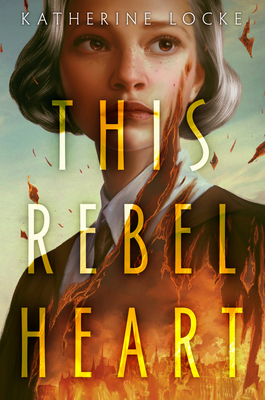 This Rebel Heart
Publication Date:
November 14th, 2023
Usually Ships in 1 to 5 Days
Description
A tumultuous tale of the student-led 1956 Hungarian revolution set in a colorless post-WWII Budapest—where the magical Danube river has plans of its own—from Sydney Taylor Honor winner Katherine Locke.
"A haunting, beautiful read that centers queer Jewish characters." —BuzzFeed
In the middle of Budapest, there is a river. Csilla knows the river is magic. During WWII, the river kept her family safe when they needed it most--safe from the Holocaust. But that was before the Communists seized power. Before her parents were murdered by the Soviet police. Before Csilla knew things about her father's legacy that she wishes she could forget.
Now Csilla keeps her head down, planning her escape from this country that has never loved her the way she loves it. But her carefully laid plans fall to pieces when her parents are unexpectedly, publicly exonerated. As the protests in other countries spur talk of a larger revolution in Hungary, Csilla must decide if she believes in the promise and magic of her deeply flawed country enough to risk her life to help save it, or if she should let it burn to the ground.
With queer representation, fabulist elements, and a pivotal but little-known historical moment, This Rebel Heart is Katherine Locke's tour de force.
Praise for This Rebel Heart
★ "Vivid, suspenseful, emotionally grounded, and heartbreaking... essential reading for lovers of historical fiction." —SLJ, starred review
★ "A breathtaking, affecting work…. The queer characters, gentle three-way romance and passionate socio-political activism in This Rebel Heart are likely to strike a recognizable chord for teens of any era." —Shelf Awareness, starred review
★ "Like Sepetys' The Fountains of Silence, this will certainly send readers to research a lesser-known resistance movement and realize that while it's easy to judge history in hindsight, it's far more difficult, but necessary, to try to make it." —The Bulletin, starred review
 
"With its richly drawn characters and gutting depictions of post-Holocaust trauma and antisemitism, This Rebel Heart is a grounded, often heartbreaking account of Jewish life under Russian occupation." —Polygon
 
"Katherine Locke isn't a household name—yet. This Rebel Heart could very well be the book to change that." —BookPage
"History and magic intertwine in a beautifully rendered Budapest.... Challenging and rewarding." —Kirkus Reviews
"Locke offers an original, moving tribute to the bravery of freedom fighters—straight and queer, Jewish and gentile—who risked their lives for their cause." —Publishers Weekly