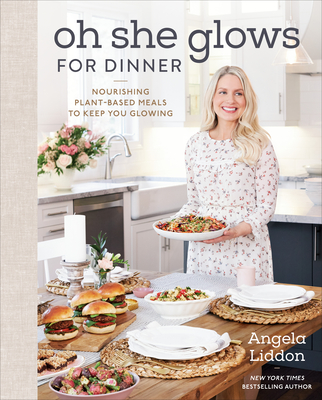 Oh She Glows for Dinner: Nourishing Plant-Based Meals to Keep You Glowing: A Cookbook
Publication Date:
October 13th, 2020
Usually Ships in 1 to 5 Days
Description
Angela Liddon, author of the New York Times bestselling Oh She Glows cookbooks, returns to offer readers nourishing plant-based dinners bursting with layers of flavor.
For more than a decade, Angela Liddon has been one of the biggest names in the healthy cooking blogosphere. Famous for her flavorful, creative, and whole foods approach to plant-based cooking, Angela's recipes are beloved by all, whether you are vegan, plant-based curious, or simply looking to add more energizing ingredients to your meals without sacrificing an ounce of satisfaction. Now, in her third, much-anticipated cookbook, Oh She Glows for Dinner, Angela gives readers her foolproof recipes, tips, and tricks for creating super tasty, always nourishing dinners that will have the whole family glowing from the inside out.
In Oh She Glows for Dinner, Angela shares her Glow Getters meal prep plans, helpful make-ahead tips, and favorite seasonal and holiday menus, as well as one-pot and on-the-glow meals that will help streamline your busy week. Storage and reheating instructions remove time-consuming guesswork, and a handy new label index helps you look up dishes based on allergies or food preferences such as gluten-free, freezer-friendly, one pot, nut-free, and more. Angela's thorough, easy-to-follow recipes help you feel like she's cooking with you in your kitchen. With irresistible, light meals like Kitchen Sink Sheet Pan Buddha Bowl and Mediterranean Smashed Chickpea Salad with Tzatziki Aioli and cozy, hearty meals like Portobello Boats with Rosemary-Lentil Crumble and Italian One Pot Buttery Tomato, White Beans, and Farro, dinner can be chock full of flavor and nutritious at the same time. And don't forget dessert: treats like O Canada! Spiced Maple Cream Torte with Warm Apple Pie Compote and Brain Child Cherry-Lemon Coconut Cream Pops make mealtimes (and snack times) a little extra sweet while utilizing ingredients you can feel good about. With its inspiring, yet practical approach, Angela's latest collection of feel good recipes will become a dog-eared staple in your kitchen for years to come!
Praise for Oh She Glows for Dinner: Nourishing Plant-Based Meals to Keep You Glowing: A Cookbook
"Angela's newest cookbook might just be my favorite yet. Not only did she ingeniously think to include fun menus, but each and every recipe is also full of time-saving tips for a busy lifestyle. And of course, each recipe is colorful, healthy and delicious. I can't wait to cook from the book weekly. It's going to be a staple in my kitchen."
–Tieghan Gerard, New York Times bestselling author of Half Baked Harvest Super Simple
"Oh She Glows for Dinner proves just how simple, delicious, and joyful eating a plant-based diet can be. Filled with Angela's vibrant recipes and thoughtful tips, it  will make you excited to cook dinner, even when life gets busy." 
—Jeanine Donofrio, author of Love and Lemons Every Day 
"Earlier last year I completely removed eating meat from my diet. I had the hardest time finding food that kept me full because of the lack of protein. Angela's recipes in Oh She Glows have so much flavor and are the perfect plant-based options! Sometimes cooking for a family of five can get exhausting, and these recipes are quick and easy and my entire family loves them! Our favorite is the Glow Green 30-Minute Pesto Pasta!"
—Molly Sims, bestselling author of The Everyday Supermodel and Everyday Chic
 
"I have been such a big fan of Angela's cookbooks, which are filled with recipes that are extremely family-friendly, plant-based, and nutritious. I am so excited about Angela's new cookbook, Oh She Glows for Dinner. I love that she's integrated meal plans into this book, as I am always looking for help and suggestions for dinner. If you have kids, you know that dinnertime sneaks up on you fast! This book is so beautiful, and I can't wait to cook some of these drool-worthy recipes for my family."
—Jillian Harris, bestselling coauthor of Fraiche Food, Full Hearts
"Oh my goodness, the recipes and information in this cookbook are exactly what I constantly hear people asking for: weeknight dinner ideas and meal plan/prep guides. The theme couldn't be more perfect for this day and age. Angela has absolutely nailed it. . . . again! I literally salivated reading the index: Cheesy Lentil Bolognese Casserole, Dreamy Peanut Butter Crunch Veggie Noodle Bowls, and Ultimate Creamy Salt-and-Vinegar Scalloped Potatoes. Calling it now—this book will become a classic."
—Erin Ireland, founder of ItsToDieFor.ca and It's to Die For Fine Foods
 
"A few years ago, I was eating fish, poultry, cheese, dairy, and...well, you get where I'm coming from. And then it happened: I found Angela from Oh She Glows and she has been inspiring me to eat better, eat healthier, and have fun. What I love most about her new cookbook is that it's loaded with fun and FLAVOR. So many recipes are great for families--or, in my case, single people--and my plant-based 'cooking chops' just rose to a whole new level thanks to this beautiful recipe book."
—Jann Arden, singer/songwriter, actor, and bestselling author of Feeding My Mother
 
"Years ago, when I began to discover I had some major food intolerances, the first cookbook I picked up was Oh She Glows, before I even knew what 'nutritional yeast' was. I loved the simplicity of the OSG recipes, which felt easy to follow along with and adapt as needed (like gluten-free!). A cookbook like Angela's helped me feel like my new dietary needs were not restricting but rather opening up new doors to delicious food I could make at home. With this book, I'm excited to have some new ideas, themed nights, and colorful dishes that serve up so much more than just a meal. Well done, Angela, Oh She Glows has done it again!"
—Sarah Nicole Landry, creator of TheBirdsPapaya.com
"Vegan home cooks and those looking to add more plant-based meals to their repertoire will delight in these immensely appetizing recipes."
—Publishers Weekly