You are here
Back to top
The Anthropocene Reviewed (Signed Edition): Essays on a Human-Centered Planet (Hardcover)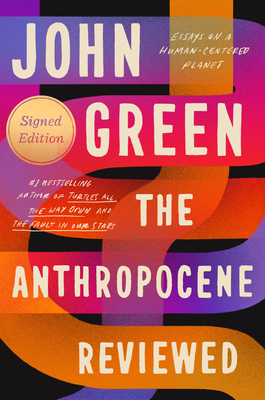 $28.00
Coming Soon - Available for Pre-Order Now
Description
---
A deeply moving and insightful collection of personal essays from #1 bestselling author John Green.

This is a signed edition.

The Anthropocene is the current geologic age, in which humans have profoundly reshaped the planet and its biodiversity. In this remarkable symphony of essays adapted and expanded from his groundbreaking podcast, bestselling author John Green reviews different facets of the human-centered planet on a five-star scale—from the QWERTY keyboard and sunsets to Canada geese and Penguins of Madagascar.

Funny, complex, and rich with detail, the reviews chart the contradictions of contemporary humanity. As a species, we are both far too powerful and not nearly powerful enough, a paradox that came into sharp focus as we faced a global pandemic that both separated us and bound us together.

John Green's gift for storytelling shines throughout this masterful collection. The Anthropocene Reviewed is a open-hearted exploration of the paths we forge and an unironic celebration of falling in love with the world.
About the Author
---
John Green is the award-winning, #1 bestselling author of books including Looking for Alaska, The Fault in Our Stars, and Turtles All the Way Down. His books have received many accolades, including a Printz Medal, a Printz Honor, and an Edgar Award. John has twice been a finalist for the LA Times Book Prize and was selected by TIME magazine as one of the 100 Most Influential People in the World. He is also the writer and host of the critically acclaimed podcast The Anthropocene Reviewed. With his brother, Hank, John has co-created many online video projects, including Vlogbrothers and the educational channel Crash Course. He lives with his family in Indianapolis, Indiana. You can visit John online at johngreenbooks.com.
Praise For…
---
Critical acclaim for John Green

#1 New York Times Bestseller
#1 Wall Street Journal Bestseller
#1 USA Today Bestseller
#1 International Bestseller

Michael L. Printz Award Winner
Michael L. Printz Honor Winner
Two-time Los Angeles Times Book Prize Finalist
TIME 100 Most Influential People
Forbes Celebrity 100

 
Turtles All the Way Down:

"A sometimes heartbreaking, always illuminating, glimpse into how it feels to live with mental illness." – NPR

"Wrenching and Revelatory." —The New York Times
 
"A tender story about learning to cope when the world feels out of control." —People

"Green finds the language to describe the indescribable. . . . A must-read for those struggling with mental illness, or for their friends and family." —San Francisco Chronicle

The Fault in Our Stars:
 
"Damn near genius . . . The Fault in Our Stars is a love story, one of the most genuine and moving ones in recent American fiction, but it's also an existential tragedy of tremendous intelligence and courage and sadness." —Lev Grossman, TIME Magazine
 
"This is a book that breaks your heart—not by wearing it down, but by making it bigger until it bursts." —The Atlantic
 
"Remarkable . . . A pitch-perfect, elegiac comedy." —USA Today

Welcome!
The Narrow Gauge Book Cooperative is a community-owned, independent bookstore located in Alamosa, Colorado, in the heart of the San Luis Valley. We sell new and used books and a small assortment of local foods and goods.
To learn more about who we are, read our story about how a community came together to save their beloved, historic bookstore.
If you've come to browse our inventory and shop online, you're at the right place!